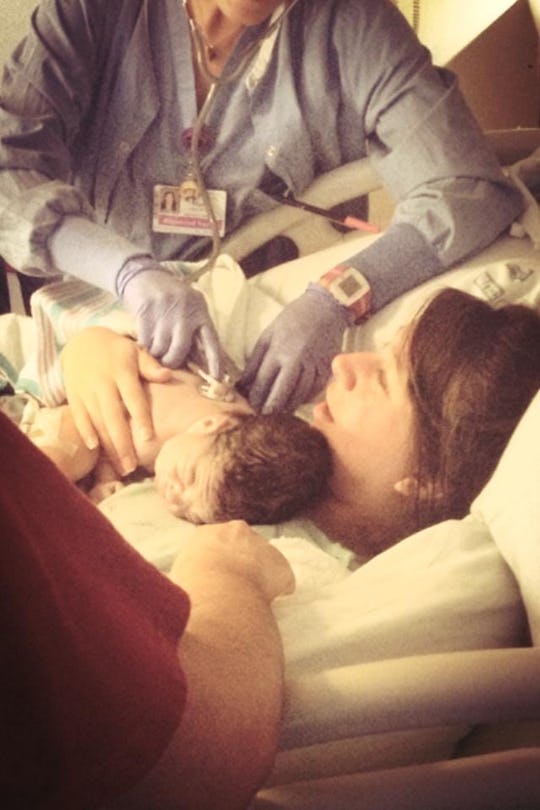 Courtesy of Danielle Campoamor
12 Things Every Pregnant Woman Thinks When She's Getting An Epidural
When I sat down, very pregnant and very miserable, to write out my birth-plan, I didn't write down the world "epidural." I decided I wanted a drug-free labor and delivery experience, so I was going to take advantage of my hospital's birthing ball, birthing tub and anything else that would assist me that wasn't a "drug." After ten hours of excrutiating, drug-free labor, that plan changed. I asked for an epidural to be administered as quickly as possible, and thought the things every pregnant woman thinks when she's getting an epidural. I was slightly disappointed, a little scared, but I was mostly incredibly relieved and thankful that I could take advantage of modern medicine, get some much-needed rest, and proceed to birth my baby the way I wanted to: safely.
I know that there some very passionate beliefs and thoughts and feelings concerning labor and delivery, and how a woman is "supposed to" bring another human being into the world. Honestly, you don't have to be a pregnant woman to be subjected to what someone else thinks on the subject. While I have been criticized by others for my decision to use an epidural, I can tell you that not once have I ever felt remorse for changing my birth plan when I knew I needed to. No one knew what was best for me (in that moment) other than me, and while someone may think what I did was "lazy" or "taking the easy way out" or some other judgmental descriptor, I know that there was no way I was going to have the energy to push my baby out of my body if I didn't sleep. An epidural gave me that ability and I will forever be thankful for that.
Still, it doesn't mean that the thoughts ravaging my already exhausted brain while I was trying to sit still and let someone put a needle into my back, were completely positive. I mean, I was in the middle of labor for goodness sakes. I have a feeling that I'm not alone in those thoughts, which, you know, helps. Solidarity FTW, you guys.