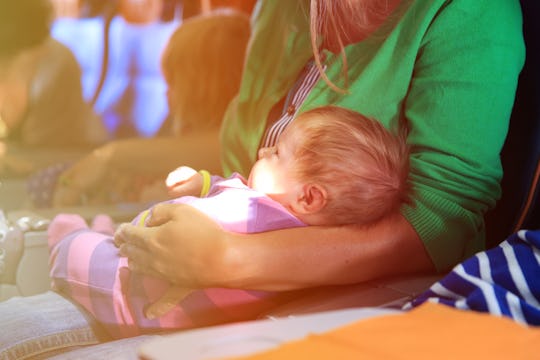 Fotolia
11 Things Every Mom Wants You To Know When She Boards An Airplane With Her Kid
I've always been one to travel. Growing up in Anchorage, Alaska, flying was "normal," as it's usually the only way you can visit family. Unless we wanted to be in a car for at least a week, flying was a necessity. The same applies for my own family, now. My partner, myself and our son live in New York City, while our extended family lives on the West Coast or the Midwest. That means every flight, without fail, there are a few things I want people to know when they see me boarding an airplane with my kid. Having done this a few times, I know what most people are thinking (especially the people that whisper and roll their eyes and let out a bunch of exacerbated sighs) so, I think it's only fair they know what I'm thinking, too.
I get it; no one likes to be stuck in a tiny tube, flying 30,000 feet in the air while a kid cries or screams for what seems like hours on end. The sound of a baby crying or a toddler throwing a fit isn't exactly what I could consider "pleasant." However, I am not going to apologize to people for my kid acting like a kid, just like the drunk frat guy a few rows back on his way to Vegas clearly isn't going to apologize for being a drunk frat guy. Human beings aren't always pleasant, and traveling with a bunch of human beings stuck together isn't always going to be the joyful, quiet experience we all hope for. My choice to become a mother shouldn't keep me from traveling to see family for friends or any other reason I feel like traveling, just because my son might act out and just because other people might not appreciate children the way I have learned to appreciate my son (yes, even when he is throwing a fit).
So yes, I get that flying with a kid that doesn't want to sit still for an extended period of time can be somewhat of a pain, but I guarantee you it's a bigger pain for the parent (or parents) of that kid, than it is the other passengers. Just know that those parents are doing everything within their power to keep their child "behaved," so that you're not inconvenienced. They're also hoping you realize the following things, because that would really help make the entire flight more pleasant for everyone involved.