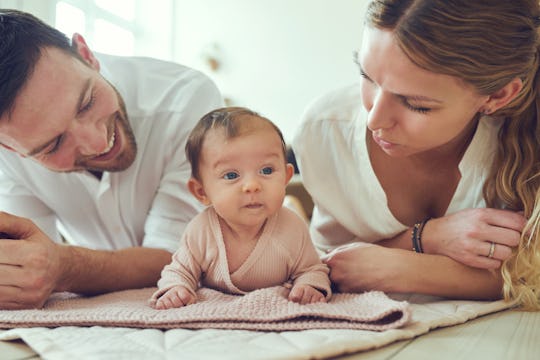 UBER IMAGES/Fotolia
8 Ways A Happy Couple Will Protect Their Relationship After Having A Baby
My partner and I learned the hard way that when you have a baby, you have to protect your relationship. After adopting our baby girl nearly two years ago, and then taking in several foster kids and experiencing numerous failed adoptions, we realized first hand that taking care of your relationship should be priority number one when you're a new parent. Of course, that's often easier said than done, which is why it's worth taking note of all thew ways happy couples protect their relationships after having a baby. Look, the bottom line? No one automatically knows how to be a good partner and a good parent simultaneously, but you can learn from the trials and tribulations of others. And while different things work in different relationships, it doesn't hurt to take a look around, see what's benefitting other couples, and try out a few things in your own relationship.
In the first six months we were parents, my partner and I didn't go out together alone. No, not even once. So a word to the wise? Don't do that. In our case, it was because our daughter was technically in foster care for six months and needed a specially background-checked babysitter in order for us to leave. But if I'm being honest, that was also sort of the excuse. After just a few weeks as the only people in charge of our daughter, it was really easy to think we were the only ones who could take care of her.
New parents, learn from my mistakes. Don't feel as though your world needs to revolve around the new addition to your family. Take a moment to realize that your relationship was the foundation for your family, and without a foundation most houses crumble. So I say it's worth paying attention to the following so you can take concrete steps toward protecting your relationship post-kids.