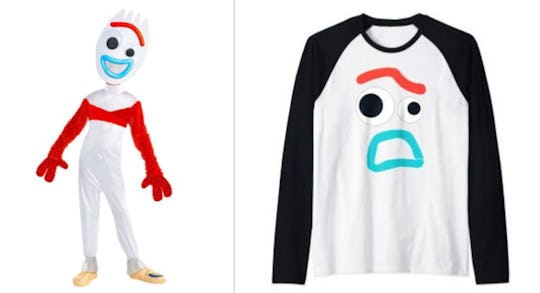 Party City, Amazon
'Toy Story' Fans Of Every Age Will Fall For These Forky Halloween Costumes
Forget about Buzz and Woody. The real superstar of Toy Story 4 was a spunky little spork named, what else, Forky. Kids everywhere went wild over this little piece of plastic who showed us that trash can become treasure, and that friendship can be found in the most unlikely of places. Which is probably why you're bound to see a whole lot of Forky costumes come Halloween this year.
Although he didn't quite start out as a toy (he was made from a spork, pipe cleaners, popsicle sticks, and googly eyes), Forky quickly became Bonnie's best friend in Toy Story 4. He helped her adapt to her first day at kindergarten, and eventually went on to become her favorite toy, despite his proclamations that he's trash. With his sweet, simple design, and his earnest quest to find out who he truly is in this world, it's easy to fall in fall in love with his endearing character. And fans certainly did. In fact, Toy Story 4 has grossed over $1 billion worldwide, Variety reported.
Although Forky is a total DIY project, you don't have to come up with the costume yourself if your kid is clamoring to be Forky. So whether you want to dress up your kid (or yourself), these 10 Forky costumes will help you look like everybody's favorite spork.