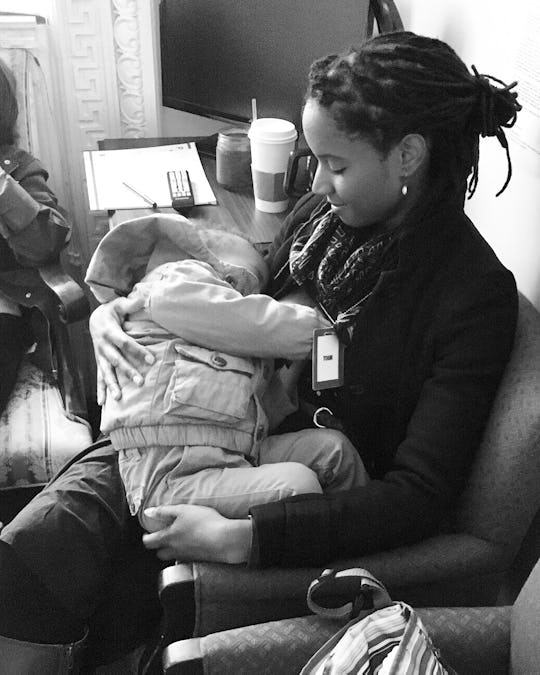 Courtesy of Sabrina Joy Stevens
Mistakes Every Extended Breastfeeding Mom Makes
I'm not sure how moms in years past made it through the earliest days of breastfeeding before smartphones and Netflix. Those early nursing sessions take forever, so I got in the habit of watching things (or reading) to keep myself occupied. (Yes, breastfeeding is a time to connect with your baby, but, real talk: there's only so long a grown woman can stare into a baby's eyes before getting a little bored.) Fortunately, older babies' are much more efficient at nursing. Unfortunately, if you make any of the mistakes every extended breastfeeding mom will make, they may penalize you for it, and sometimes with a little (or not so little) bite.
Turns out, while a newborn doesn't notice if you zone out with your phone for a little while as they nurse, an older baby does. During one of the last times I ever chatted on Facebook while nursing, my then just barely 1-year-old son decided to get my attention with his four newest teeth. I dropped my phone and hissed half an expletive before realizing what was going on and trying to remember what the La Leche League ladies said to do in this situation. I brought his head close into my chest so he'd release, and then removed him from my breast. An eager nursling, it only took two more biting-equals-banished interactions before he figured out that it wasn't a good idea to bite mama if he still wanted to nurse.
Though nursing a baby past a year is a perfectly wonderful thing to do, it's pretty much inevitable that you'll make some (or all) of the following mistakes if you do. No worries; they're all fairly simple to recover from.