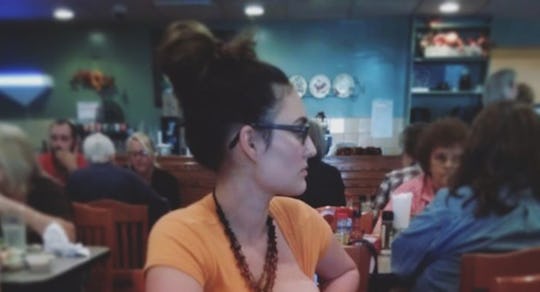 This Breastfeeding Mom's Facebook Post Is The Best Mic Drop On The Subject Of Public Nursing — PHOTO
Regardless what side of the baby feeding debate you're on, one thing is for sure: No parent should ever get shamed for how they choose to feed their child. Formula-feeding moms catch flack for not "trying harder" or for "giving up too soon" when they already possibly feel guilty for being unable to breastfeed. And breastfeeding mamas have it just as rough, dealing with judgmental people who wish for them to hide away when they opt to feed their babies, who shame them for their bodies and their choices.
So when self-professed lactivist Ashley Kaidel noticed herself getting the stink eye from a woman at a restaurant while she was breastfeeding her child, she didn't take it sitting down. Instead, she returned the favor, in a stare-down I only wish I could have seen in person. Kaidel then had someone take a photo of her, seemingly staring off while her baby nursed.
In reality, I'm staring into the eyes of a woman staring at me. She is looking at me with disgust and shaking her head with judgement in an attempt to shame me and indirectly tell me without words that I am wrong and need to cover myself.
Kaidel goes on to discuss the reasons she refuses to cover up while breastfeeding, and the importance of breastfeeding visibility. These are her main points: