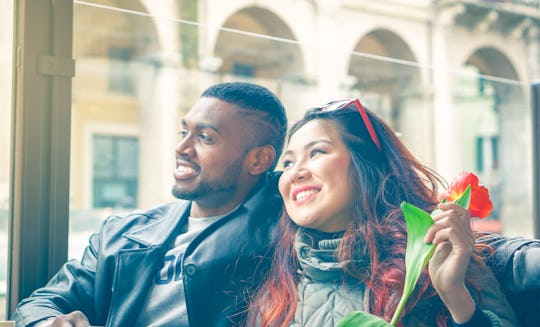 Akhenaton Images/Shutterstock
9 Personality Traits That People Looking For Marriage Notice — In A Good Way
The differences between someone looking for marriage and someone who's unsure of what they want can often be subtle, particularly because everyone has a different idea of what lifelong commitment looks like. But there are some common traits that people who are looking for marriage find irresistible.
Of course, there's no one quality that makes someone the one, because everyone is looking for something different. And it's likely you'll know you've met the person you want to share your life with based on the feelings you have around them and how you act towards them. In fact, research shows people behave differently when they think their partner could be their soulmate. (For instance, men start using "we" all the time and relax in their own skin a bit more when they think they've met the person they are meant to be with, according to Dr. Sal Raichbach PsyD, LCSW, of Ambrosia Treatment Center). We subconsciously alter our behavior to ensure this person stays in our lives.
These traits are like bat signals in the eyes of someone who is looking for marriage, whether the people who possess them mean to give off wedding vibes or not. But knowing what these traits are can put you in an advantageous position: you play them up if there's someone special whose attention you're trying to grab, or downplay them if the last thing you want is for someone to fall for you.