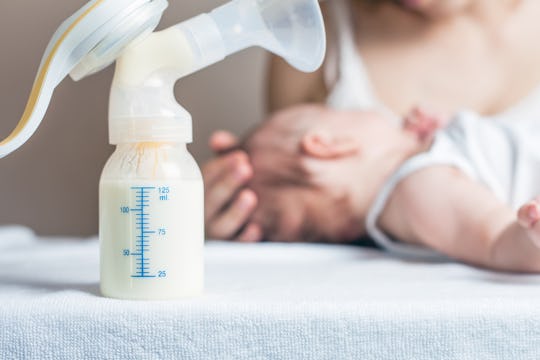 Fotolia
9 Pretty Gross (But Totally Normal) Things That Happen When You're Pumping
For most mothers, breastfeeding is an entirely new experience and, as a result, is pretty unnerving. After all, there aren't too many times in your life when you'll find yourself producing milk from your body in order to feed another human being. Of course, if a mom decides to use a breast pump, the entire pumping process is entirely new, too. Experiencing something for the first time and being grossed out kind of, usually, go hand-in-hand, which is easily one of the many reasons why there are some gross things happen when you're pumping. Thankfully, these "gross" things are pretty normal, don't last forever and end up being your new "normal." Motherhood is just the most glamorous, right?
When I first started pumping, I was under the impression that it would be easy. I honestly thought all I had to do was follow the instructions my breast pump came with (it does help) and pumping would be an effortless experience. Nothing gross or weird or strange or even painful would happen because, hey, that lady on the front of the box the pump came in just looked the most happy. Yeah, that's definitely not how breast pumping works and that smiling lady is a lying liar face.
Thankfully, the more I began to pump the better I was at it and the more immune I was to the "gross" stuff. Still, looking back and waxing nostalgic about my first days of breast pumping usually gives me that all-too-familiar "freaked out" feeling, because it was kind of disgusting and a little gross. Whether it was the comments other people felt compelled to make, or the things that were happening to my body, breast pumping is just kind of this weird, gross things that breastfeeding mothers end up getting used. So, if you're pumping and consider it a pretty gross experience, know that you're not alone. Honestly, this stuff is pretty normal and like I've grown to love saying during almost every moment of motherhood, "This too shall pass."