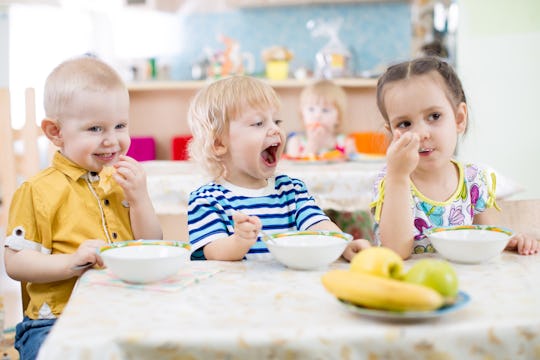 Fotolia
9 Reasons Having A Kids' Table At Thanksgiving Is The Best Idea Ever, Even If Kids Hate It
When I was a kid, my extended family got together with our neighbor's family to celebrate Thanksgiving. We were a loud, large group, crammed into a New York City apartment, which meant we couldn't all sit together. As a result, I was relegated to the kids' table, and I hated it. However, now that I'm a parent, I've realized that having a kids' table at Thanksgiving is the best idea ever, even if every single kid in the history of kids, hates it.
It never feels cool to be grouped with other kids when there is an older set of folks around. I longed to sit at the "grown-up table," even though I had nothing to contribute to their conversations and was definitely out of my element. I hated being labeled a "baby" and sitting with the other babies, or worse, the teenagers who were hellbent on pranking one another and starting a ruckus. As a mature child, I didn't understand why the adults wouldn't want a sophisticated fourth grader to join them around the turkey.
Having kids of my own definitely brought me around to the idea of dining separately from them, especially during the most gluttonous day of the year. On weekdays, since both my husband and I work full-time, we get home after the kids have had their dinner. I am convinced this is what allows me to lavish so much love on them, because after a weekend of Thanksgiving family dining — and the spilling, dropping, whining and stickiness that go with it — I can't wait until I have my sad desk salad at work. Alone.