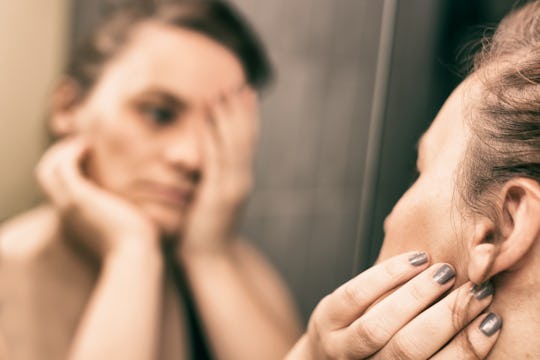 Fotolia
9 Things About Postpartum Depression That Dads Just Don't Get A Say In
There are about a hundred reasons why being a mom is challenging, but struggling with postpartum depression (PPD) is perhaps the most challenging. I think that's because there are so many expectations placed on moms that often imply how a mom should and shouldn't feel. Sometimes those expectations can come from trustworthy sources, too, which makes it all the more difficult to fight against them. Whether it's your partner, your doctor, or your family member, there are things about postpartum depression that dads just don't get a say in, no matter how much they care about you or how desperately they want to help.
You see, no one has the right to tell you what to feel, especially when they haven't been through it themselves. The men in our lives can (hopefully) try to understand, but the fact is, they will never have the hormones, the emotions, the physical trials and tribulations (and much, much more) that new moms go through. Anyone who tries to invalidate your experience is really only endangering you. You don't need someone making you feel like you're broken, because you're not broken.
With that said, if someone is pressuring you to be a certain way, telling you that what you're feeling isn't worth taking seriously, go elsewhere to find support. Talk to other moms, find a support group, talk to a professional, because you are not alone and you shouldn't spend a single second ever thinking or feeling like you are. And while your partner (regardless of their gender) will likely try to help you get through postpartum depression, make sure they never, ever, try to have a say in the following things. Honestly, it's not their place.