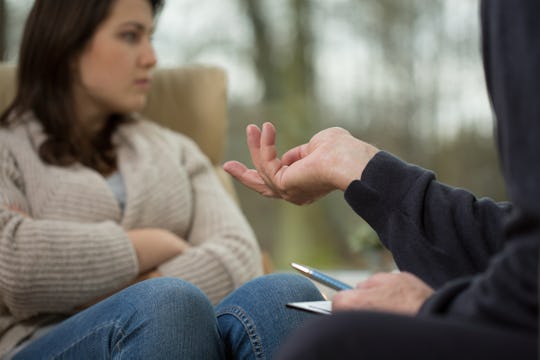 Fotolia
10 Things Men Need To Stop Saying About Postpartum Depression, Immediately
Prior to having my son, I had lightly researched postpartum depression (PPD) and all it entails. It was casually mentioned during a doctor's appointment and there was a small chapter about PPD in a few parenting books and I felt confident that, if I did get PPD, I would be able to "handle it." I was wrong. Suffering through postpartum depression was one of the most difficult things I have ever done, and that difficulty was exacerbated by the judgment, shame and stigma that came with it. That's why there are things men need to stop saying about PPD. Hell, that's why there are things society needs to stop saying about PPD. Having postpartum depression is difficult enough. Being forced to listen to ignorant statements, makes it worse.
I was so very fortunate that I had a partner who, while physically unable to ever experience postpartum depression, was supportive and understanding and empathetic. My partner didn't tell me to "get over it" and never doubted my diagnoses. He didn't compare me to other mothers and he didn't tell me to forgo medication or treatment. It seems that, for many, it's easy to discredit postpartum depression because they'll never experience it, especially cisgender men who will never become pregnant and, therefore, will never run the risk of having postpartum depression. For some, having never gone through something makes it easier for them to point that that "something" and say, "That's not real, and neither is your experience." That's why so many women stay silent when they realize they're suffering from postpartum depression. That's why mothers are afraid to speak up or ask for help. That's why "suffering" and postpartum depression, tragically, go hand-in-hand.
That's also why it's vital that we change the conversation about and surrounding postpartum depression. Women need to feel supported and understood, and men can help facilitate that necessary support by refusing to say the following things. You don't have to experience postpartum depression yourself, to realize that the women who do suffer through PPD need support.