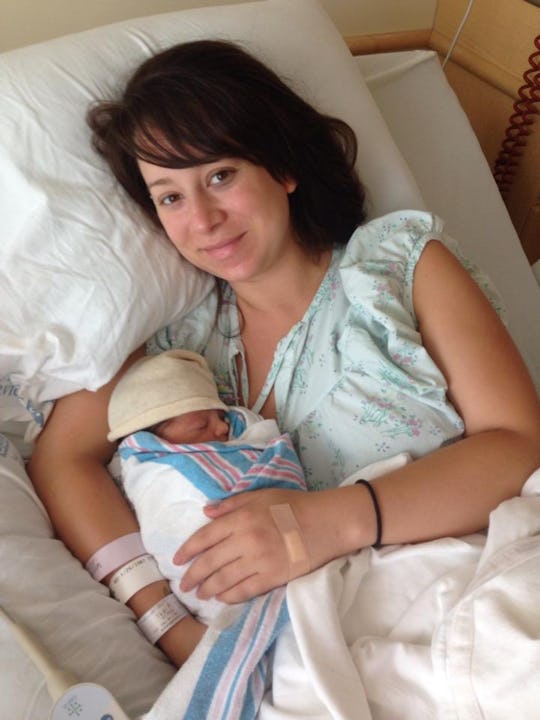 Courtesy of Danielle Campoamor
What I Did For Myself After Leaving The Hospital
The moment I pushed my son into the world, I realized one glaringly large difference between pregnancy life and postpartum life: it used to be about me, but it sure as you-know-what isn't about me anymore. All of a sudden, everyone focused on my baby (I can't blame them because OMG he was the most precious thing in the entire world). So, before too long, I realized I had to care for myself in order to care for my baby. The things I did for myself immediately after leaving the hospital were just as much for me as they were for the betterment of my newborn baby, too. Just like I needed to take care of myself when I was pregnant in order to grow my son, I needed to take care of myself in order to raise my son.
Sadly, this lesson — while obvious almost immediately — took a while for me to truly learn and understand. I wanted to stay up all night and day, be responsible for every feeding and every diaper change, and truly show I was a "good mother" by completing every single parenting task under the sun. Yeah, that's not healthy. It demeaned my partner, it kept me from sleeping, and it made it impossible to make an attempt at anything resembling self-care. So, after two nights in the hospital of keeping myself awake and exhausting myself to no end, I went home and realized my hospital routine just wasn't going to fly. I needed to put myself first if I was going to be able to care for my son the way he deserved to be cared for.
Enter the first glorious day home from the hospital. I was finally able to relax, care for myself, get some rest, and spend some quality time with my son that was more comforting than exhausting. I was quick to let my partner parent (you know, because that's his job, too) and I asked and accepted help. You guys, it was amazing. So, with that in mind and because us moms need to hear more stories of mothers putting themselves at the top of their priority list, here's everything I did for myself immediately after I came home from the hospital.