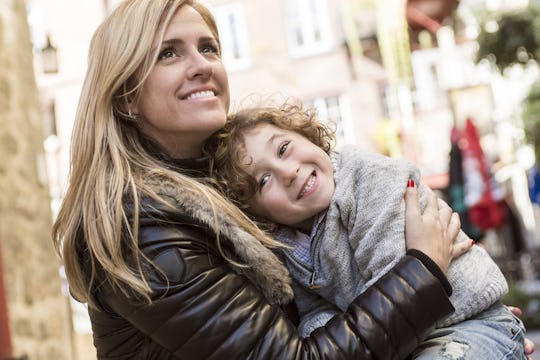 Fotolia
9 Things You Should Never Say To A Mom If You Can't Tell Her Kid's Gender
As much as many people like to say that gender doesn't really matter to them, it becomes very clear that it does when they have trouble immediately sorting someone as male or female. When I was pregnant, I even had people get mad at me when I wouldn't tell them what gender my unborn baby was, when at that point all the information I had was what kind of genitalia I had seen on an ultrasound. I've heard way more than my share of things people really shouldn't say if they can't tell your kids' gender, thanks to being in a family that prioritizes personal style, our finances, and the practicalities of the weather and physical activity over what people assume about our kids' gender identities.
Even if they don't realize it, when people try to find out what gender a baby or child (or adult) is, it's because not having that information makes them uncomfortable, and that discomfort likely stems from not knowing how to treat someone whose gender they don't know. Whether they intend to or not, they do treat people differently once they have that information. Researchers have found that people treat even very young children quite differently based on their perceived gender. In some studies, researchers have dressed the same babies up in clothes commonly associated with girls or boys, and found differences in how much adults held them, talked to them, and what kinds of toys they offered them, depending on whether their outfit signaled to the adults that the baby was a boy or a girl.
If we really want to live in a world where gender doesn't matter, we need to stop treating people differently based on gender, and we have to stop teaching children that they have a responsibility to perform gender. If you want to know what pronouns to use for a child, ask what the preferred pronouns are, or listen to their parents and observe which ones they use. Whatever you do, please don't say any of the following, especially if you're right in front of the child. By doing so, you are sending them the message that you think there is something wrong with them, or that they have to be different in order for people to accept them for who they are. Most people don't want to contribute to a world that makes children feel like they shouldn't be their true selves, or to a world that makes parents believe they need to work towards change their kids in order for their kids (and themselves) to be accepted. If that's true for you, here are a few things you should never say to a mom if you can't tell what gender her child is.