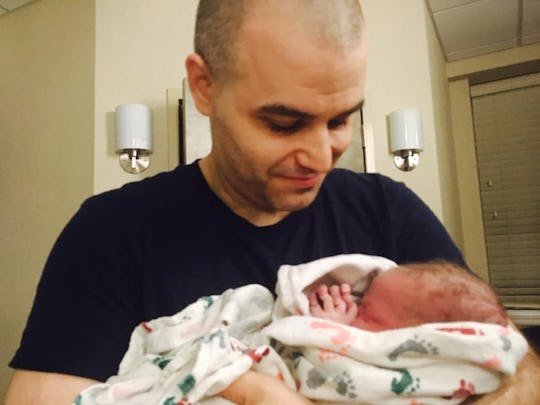 Courtesy of Steph Montgomery
What Your Baby Thinks When They Finally Meet Your Partner
Meeting my baby for the first time was easily most magical moment of my life. I breathed a huge sigh of relief, then snuggled with him for a while. I thought so many things all at once, like, "Is he OK?" and "It's all right," and, "Hello, I'm your mom." Later my husband wanted a turn and, well, who could blame him? As my partner held our son, I thought about how bizarre this situation must be for our little one. I mean, there must be more than a few things your baby is thinking the first time they meet your partner, right?
As my husband tentatively and gently cradled our son in his arms, judging from his cry and expression, our baby was definitely thinking, "WTAF? Who is this person and what do they want with me?" It was nothing personal, I mean, he was used to the relative quiet and comfort of my uterus and was seemingly being attacked by a giant, enthusiastic, excited monster.
Pretty soon, I'm assuming his thoughts shifted to something along the lines of, "Hey, why did you take me away from mommy?" followed by, "I'm hungry and cold." Then he probably came to the realization that this large scary person isn't so scary after all. In fact, as my husband gently cradled our son, I could almost see our baby realize that his dad loved him and that he loved him back. Essentially, my son was falling in love for the second time in his short life, and with another person who will always be there for him.
I am pretty sure my baby thought these, and a few other things, the first time he met his dad. So if you're looking forward to introducing your partner to your brand new baby, here's an idea of what your baby will probably be thinking during that meeting: