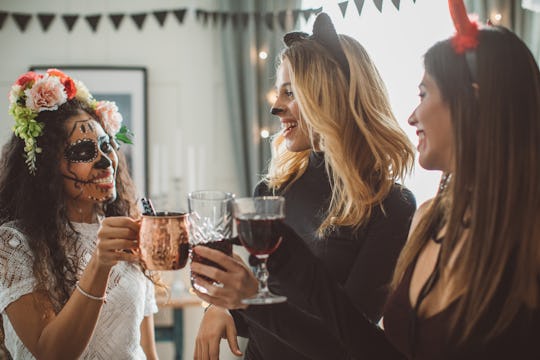 svetikd/E+/Getty Images
18 *Actually* Fun Games For Adult Halloween Parties
Halloween party games for kids are easy to come up with, but Halloween party games for adults? Not always as easy. When I was nine months pregnant and ready to burst, my partner and I were invited to a Halloween party. Knowing it might be our last night out for a while without having to worry about a babysitter, we happily blackened our eyes and put the letter "P" on our t-shirts (we were the black-eyed P's — get it?). Once there, we chatted, ate a few orange and black appetizers and then... well, that's about it. It was a nice night out, but could have really used a few cool Halloween games to take that party to the next level.
Conversation, food, and alcohol can be all a party needs, but given the festiveness and mischievousness of Halloween, it's fun to plan a few games and bump it up a little. Some games can be thrown together at the last minute; others require more preparation. A few of the more elaborate ones may dictate that the guests are aware in advance, in case they need to come in specific costumes or bring props with them.
I'm not particularly crafty (okay, I can't even cut a straight line) so for the more project-intensive games, I would need to enlist a friend or two with the prep. Allow yourself to get hokey and bring back adult versions of some of the kids' games you used to love. You may be surprised by how much your friends appreciate the chance to get silly. Why should kids have all the fun?