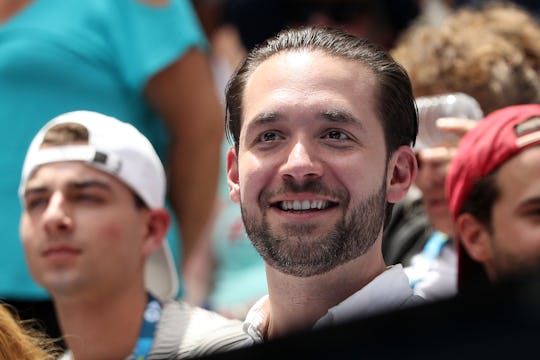 Mark Kolbe/Getty Images Sport/Getty Images
Alexis Ohanian Announces Serena Williams' Pregnancy
The powerhouse tennis champion Serena Williams, who is widely lauded as one of the best athletes of all time, confirmed the exciting news that she's expecting last week. Still, her fiancé Alexis Ohanian's announcement of her pregnancy couldn't be cuter. Fittingly, the Reddit cofounder took to the site to express his own excitement over the upcoming birth of the couple's first son or daughter with a cartoon depiction of himself and Williams lovingly admiring her bump. Of course, they're each rendered in the image of a Snoo, which is Reddit's very own alien mascot.
"A new Snoo is on the way!" Ohanian's post reads. Most of the world already knew that by the time the post went up Monday, after Williams revealed that she was 20 weeks along in the form of a Snapchat story photo Wednesday. Regardless, the Snoo illustration was a nice touch, especially because it really highlighted that the pair's baby will have it all: Williams' athletic prowess (she's won 23 Grand Slam singles titles and is ranked No. 1 by the Women's Tennis Association) and Ohanian's tech geek brains.
And that's not to mention the fact that it's a pretty solid 21st Century testament to their love. Williams and Ohanian met and began dating in 2015 before getting engaged that December.
Ohanian's Snoo announcement went live soon after Williams posted a sweet Instagram letter to her baby, which is due sometime in the fall. Starting off the caption of the post "My Dearest Baby," Williams wrote about how excited she was about being number one in the tennis rankings once again and how much she's looking forward to meeting her child. "You gave me the strength I didn't know I had," she wrote. "You taught me the true meaning of serenity and peace."
Also in the letter, she appeared to confirm her intention to return to tennis in 2018, after giving birth.
It was a clear message to her fans (and maybe even her doubters), nestled up against her loving tribute to her baby. Her original Snapchat announcement may have been posted accidentally, The New York Times reported, because it was deleted after it went public, so her Instagram post Monday was a powerful declaration of the pregnancy and of her excitement for it.
Both Ohanian and Williams are clearly having fun with announcing their news to the world. In the case of Ohanian's Snoo announcement, he was doing what he does best: According to People magazine, the tech guru has been behind the mascot design for each company he's started.
Surely, it will be a very different experience to meet the real-life Snoo he helped create.