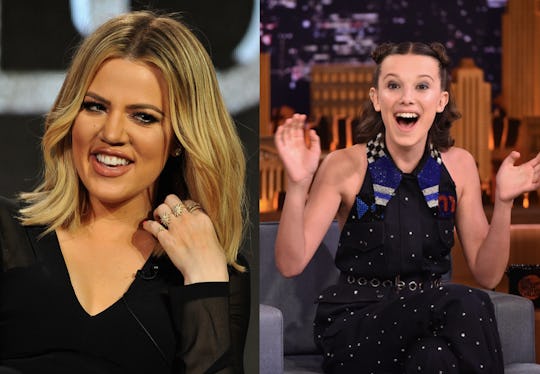 Jerod Harris/Getty Images Entertainment/Getty Images; Theo Wargo/Getty Images Entertainment/Getty Images
These Celebs Congratulated Khloé Kardashian On Her Pregnancy, & It's So Sweet
I think it's safe to say that a good portion of the world is completely ecstatic that Khloé Kardashian is pregnant. Shortly after the news dropped Wednesday night, countless celebrities took to social media to congratulate Kardashian and her boyfriend, Tristan Thompson, on the exciting news. Since it can be really nice to see celebs being happy for one another (the more love the better, right?), here's a look at all the celebs who have liked or commented on Kardashian's pregnancy Instagram so far.
As of this writing, Kardashian's pregnancy announcement has a whopping 7,078,810 likes and 375,957 comments. Those are staggering stats, to say the least, and it's quickly seeming like Kardashian's baby reveal might be the most popular post of 2017. In fact, there's a possibility the post might eventually outdo Beyoncés wildly popular and stunning pregnancy announcement from February. Beyoncé's beautiful post garnered 11 million likes, according to E! Online.
Of course, this isn't a competition or a race to get the most likes on Instagram. This is about bringing new life into the world and celebrating someone else's happiness, which is a very on brand sentiment for the holidays. 'Tis the season, as one might say.
So, who has liked Kardashian's post thus far?
Obviously, the father of Kardashian's baby liked the announcement. Thompson also commented on the post, according to People:
My love, thank you for [allowing] me to be part of your journey in life and allowing [me] to share this moment with you this is something and [I'll] always cherish. Girl you look better now.
And unsurprisingly, Kardashian's family members gave the post some likes. Kourtney Kardashian, Kim Kardashian, Kendall Jenner, Kylie Jenner, and Kris Jenner all liked the photo shortly after it was posted, and Kendall and Kris both commented with heart emojis.
If you're wondering where Rob Kardashian's like is, keep in mind that his Instagram was shut down in July. I bet Rob has congratulated Kardashian privately, however.
Members of Kardashian's team, like her stylist, Jen Atkin, and her floral designer, Jeff Leatham, also endorsed the post.
As for the prominent celebrities, the list includes: Jonathan Cheban, Gigi Hadid, Gabrielle Union, Chrissy Teigen, Kelly Rowland, Snooki, Busy Phillips, Casey Rose Wilson, Adrienne Bailon, Jordyn Woods, Cheryl Cole, Erika Jayne, Bella Hadid, Ariel Winter, Paris Hilton, and Delilah Hamlin.
Side note: I bet there are more likes to list here, but this is what I've come up with so far. It can be difficult sifting through millions of likes, people.
Along with the likes, a few celebs took the time to share their best wishes in the post's comments section. Hadid wrote, according to The Sun:
I am completely in tears Khlo, I'm so happy for you. You are going to be the best mama.
Kardashian later replied to Bella, according to The Sun:
Thank you pretty girl!! Love you!! I still can't believe it!!
And Cole gushed in a lengthy message, according to Cosmopolitan:
Khloeeee!!! such amazing news. I could not be happier for you. You gorgeous soul! You are about to have the best, most precious time of your life. And you truly deserve it. Congratulations Mommy. Wishing you a happy healthy pregnancy and what a wonderful way to start a new year.
Kelly Rowland also chimed in, according to Yahoo UK:
Ahhhhhh Screaming congratulations Khlo! So happy for you!!!! Amen! You are going to be such a great mother! What a lucky kid!
Millie Bobby Brown, who's a big fan of Kardashian, exclaimed:
Omg! Absolutely amazing! Congrats!
The most notable comment, however, might be from Rob's ex, Bailon. She commented, according to the Anchorage Press:
SCREAMING!! CONGRATULATIONS. I'm so BEYOND HAPPY for you... You are going to make the greatest, most giving, loving, nurturing, kind, fun & fly mommy! Ahhhh so happy for you.
Well, it's pretty cool that Bailon is so supportive of Kardashian given her rocky past with Rob. Bailon's kind comment just goes to show how happy she is for Kardashian.
So, the main takeaway here is that Hollywood is totally psyched for Kardashian and Thompson. The list of well-wishers is already quite long, and I'm sure more people will congratulate the couple in the days to come.
Check out Romper's new video series, Romper's Doula Diaries:
Watch full episodes of Romper's Doula Diaries on Facebook Watch.