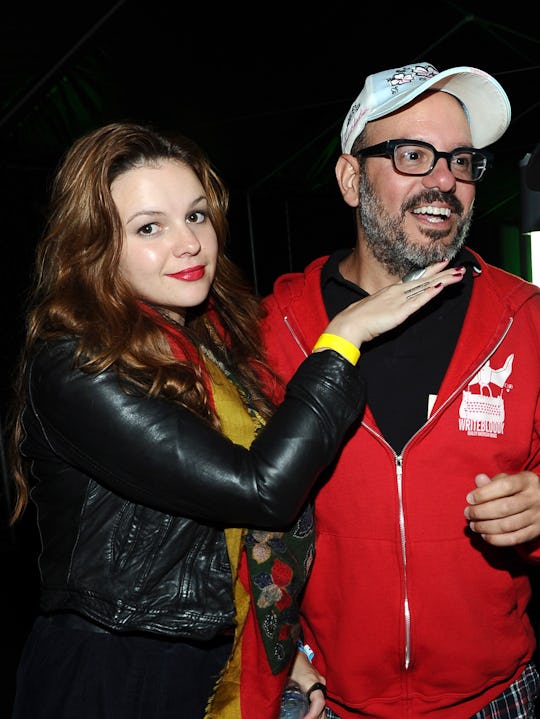 Michael Buckner/Getty Images Entertainment/Getty Images
Amber Tamblyn & David Cross Are Perfectly Goofy
Last month, the dynamic duo that is Amber Tamblyn and David Cross welcomed their first child together, having been together for about a decade. They're both politically engaged actors with a wicked sense of humor, so it's safe to assume they'll raise their new daughter to be a sharp, conscientious young woman will mad feminist principles. But even before they decided to reproduce, they two obviously knew they were made for each other. Lifted straight from Instagram, photos of Amber Tamblyn and David Cross display their goofy demeanors as well as their deep bond.
Tamblyn, 33, and Cross, 52, married in a gorgeous 2012 ceremony appropriately dubbed #WeddingInTheWoods, to which Tamblyn arrived in a canoe wearing a yellow dress and spent the day barefoot. And the couple definitely has not shied away from celebrating their singularity and quirks, both as a couple and as individuals, before or since.
It was "so obvious" to Cross that they'd be together after they bonded for the first time over a SkyMall magazine on a flight in 2007, he told an audience at a comedy event years later — the same joint appearance with his now wife during which they revealed they shared their first kiss as the theme song to the Spiderman TV series played ("Spiderman, Spiderman, does whatever a spider can...").
Best known for his role as Tobias Fünke in the Netflix original Arrested Development, Cross is also a standup comic whose material has tackled what he refers to as now-President Donald Trump's "white power rallies — without the guilt" and offered a blistering critique of the country's gun control laws (or lack thereof), according to The New York Times. Tamblyn, a Sisterhood of the Traveling Pants and Joan of Arcadia alum, also frequently criticizes Trump on social media — even offering up her own story of sexual assault when the then-candidate was caught on a hot mic making lewd comments about groping women without their consent.
More than anything, their humor shines through on their social media accounts. When their daughter was born, Tamblyn took to Instagram to announce a bogus name, later confirmed to be a joke: "Dauphinoise Petunia Brittany Scheherazade Von Funkinstein Mustard Witch RBG Cross Tamblyn-Bey Jr."
There's little doubt the two dreamed up the crazy faux moniker together, considering the shenanigans they obviously get into in real life.
In posting a cute snap of the two smiling together, Cross topped it off with a funny addendum: "The missus and I at the last day of the harvest festival near where we live," he wrote in the caption. "Just before I got my face painted and ran screaming into the corn maze."
And they know they bring the trouble — er, "twwuble!" — too, as Tamblyn wrote alongside a pic of the two on their way to the PEN Center Awards last year.
And in a hilarious tribute to their wedding anniversary, Tamblyn offered some well-wishes to... herself, in an Instagram that features her husband, too, but just barely:
Happy 4th wedding anniversary to the most talented, wonderful, handsome, compassionate, inquisitive, kind, loving and understanding person I have ever known... Me. I love you, Me. And also David. @davidcrossofficial
But she made up for it when she offered a possible throwback to the plane ride on which they met, although she gives the shoutout to her Girlfriend's Day costar Bob Odenkirk instead of her own husband, who's sitting right next to her.
"OMG I'm on a flight with that guy bob odancurk from mr show!!!!!!!!" she wrote, Cross seeming oblivious in the pic.
The two are serious about encouraging people to vote, keeping people motivated to call out B.S. when they see it, and maintaining a sense of humor when possible. And, you know what they say. Couples who vote, clap-back, and laugh together stay together.