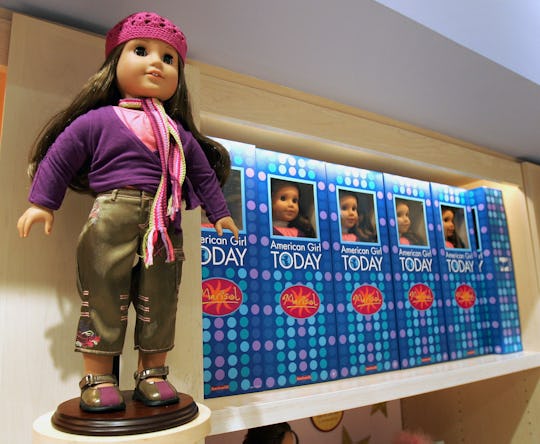 Tim Boyle/Getty Images News/Getty Images
You Don't Actually Have To Go Broke On American Girl Clothes & Accessories
Ready to have your mind boggled? The American Girl book and doll series has been around since 1986, which means that the girls who grew up with Felicity, Addy, Kirsten, and the other original crew are now buying those dolls for their own daughters. But now as then, it can be a challenge to resist going overboard buying not only the dolls, but also all the trimmings that go along with them. The good news: You can get inexpensive clothes and accessories that fit American Girl dolls, so your child and your wallet will be happy at the end of the day.
Thirty-plus years ago, there were only a handful of American Girl characters, each representing a particular period in history (Felicity for the American Revolution; Molly for World War II; Kit for the Depression era, etc.). Today, the collection has expanded to include such newcomers as Melody, a 1960s African American girl living the events of the civil rights movement. The collection also includes annual limited-edition dolls, like this year's Luciana, a science-minded aspiring astronaut.
As unique as each AG doll's history and personality are, they all have one thing in common: Their bodies are all a uniform 18 inches tall, so any doll outfit that fits one will fit them all. (Yes, in theory, you could put Melody's miniskirts on turn-of-the-century Samantha, or Felicity's colonial gowns on Z Yang, one of the new contemporary Girls.)
Knowing this, you can shop for budget-minded clothes that are designed for these larger-sized dolls, such as the Our Generation doll line available at Target and online. Like AG, the brand is targeted at elementary and tween girls, with a positive message of celebrating individuality and encouraging ambitions. The wide variety of Our Generation dolls includes twin sisters Sabina, a promising artist, Sia, a scientist in the making, and Laura, who, like AG Luciana, has set her sights on space exploration.
The majority of the OG dolls are 18 inches tall, so their clothes will fit any regular-sized American Girl doll like Kaya, Julie, or Gabriela. And these outfits and their price tags are equally irresistible. Not that the American Girl clothes and accessories aren't adorable, but at this time of year, when we have lots of folks to shop for, it pays to be a little money-savvy.
This "Need for Tweed" ensemble, which includes a sequin-covered purse and shoes, retails for just $15 — less than half of an average American Girl outfit.
For only $18, your child's doll can be the next American Idol. The realistic guitar, star sunglasses, pink boots and colorful outfit would make even Barbie sit up and take notice.
If your daughter's doll has dreams of being a doctor or scientist, this $20 school science set will get her well on her way.
If your child's American Girl doll is an aspiring vet, you can dress her for success in this $13 set of scrubs, less than half of what you'd pay for an AG career ensemble. A Pet Care set to match is just $14.
Even a well-stocked kitchen ensemble like this is reasonably priced. Compared to American Girl's $250 deluxe kitchen, the OG price of $65 means you'll have enough left over for this "retro hot dog vendor" outfit and still come out ahead.
Although this Retro Convertible Car isn't remote-controlled, like the similar American Girl car is, it does have an FM radio, along with a $70 price tag that's more than $140 less than the AG version.
The Our Generation line even includes matching child-doll outfits, like this super-sweet example here. It'll set you back only $35, which is what you could expect to pay for a single American Girl doll ensemble.