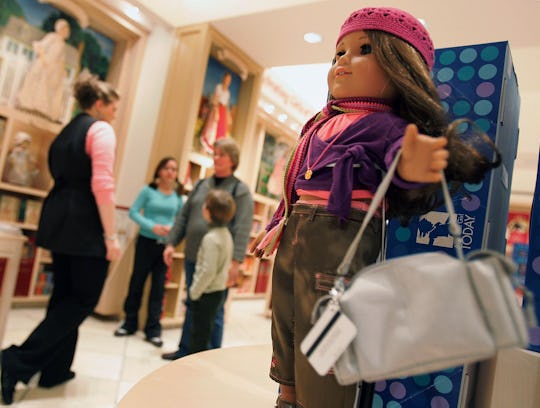 Tim Boyle/Getty Images News/Getty Images
Go Find Your Old American Girl Doll, Cause It Could Be Worth A *Lot* Of Money
When you think back and remember your most beloved toys, what were some of your favorites? The toys I remember cherishing most were my Polly Pocket sets, my Barbie Dream House, and then of course there was literally anything Little Mermaid. But what about the American Girl dolls? Sadly, I never had one (thanks Mom and Dad), but if you did, you could be sitting on thousands of dollars right now. In fact, one American Girl doll might be worth $4,000 — so if you were a fan of the collection, you might want to go and take a look at what's collecting dust in your storage space right now.
The American Girl collection is still growing in popularity with today's kids, but it first began in 1986 with three dolls — Samantha, Molly and Kirsten, according to Gothamist. Each girl had their own story and background and represented a specific part of American history, hence the name: American Girl. By the 1990s it seemed like almost every girl had one. These dolls would go for around $100 which, if you think about it, back in the '90s was pretty steep. Even today, that amount seems like a lot of money to spend on a doll. But now that all three original dolls have been pulled from production (Samantha initially sold out in 2009 and was reintroduced in 2014), they are back in demand and going for thousands, according to Do You Remember — not hundreds, thousands.
Samantha Parkington in particular could be worth upwards of $4,000, and if you have the accompanying book with all the accessories, she could be worth even more. Throughout the years many outfits and accessories were introduced into Samantha's collection but only certain items were released with the original 1986 set. Some of the accessories that came with the original Samantha set included — a variety of dresses and outfits such as a party dress, a school dress and nightgown. Other accessories from the original set were her Christmas music box, a real gingerbread house, books and school supplies, and don't forget Samantha's very own doll. So, let me say this again — if you still have any of these items, you could theoretically be cashing in on thousands of dollars right now.
Keep in mind though, even if you're lucky enough to still have some of these precious items, if they're damaged (or even visibly used) it could decrease their value. Many of the items that are going for thousands of dollars are unused and even unopened, still in their original packaging. Which makes most of us '90s kids SOL (sh*t outta luck). However, don't despair just yet! With a small fortune at stake, it's definitely worth going through some old boxes.
The American Girl trend is still going strong though, with new dolls being introduced including the company's first ever male doll — his name is Logan and honestly, how cute is that? The company continues to stay current by growing their cultural and gender representations as well as released several movies based on their characters.
And hey, if you no longer have your doll, then at least you have the many happy memories — I know, it's not the same as a few grand. But with American Girl culture still going strong, at least you can share the joy with your little ones.