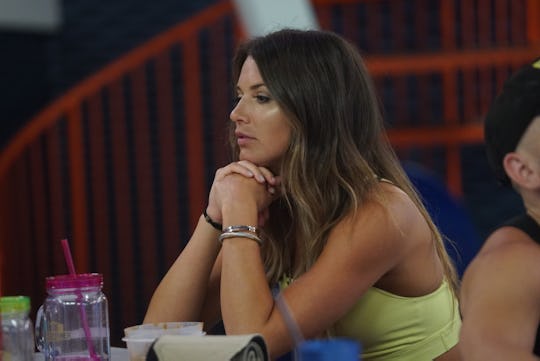 Sonja Flemming/CBS
Angela & Tyler Were One Of The Stronger 'Big Brother' Couples This Season
Big Brother showmances can either make or break your game. You could end up targeted because of your relationship or you could use it to create a powerful twosome that plows through the competition. That's what Tyler and Angela did on Big Brother 20 and it had fans rooting for them as a couple and as individual players. It also makes you wonder, are Angela and Tyler still together after Big Brother?
They seem like they have what it takes to make their relationship last out in the real world and they get bonus points for having South Carolina in common. For those who don't remember — or aren't as obsessed with "Tangela" as I am — he currently lives there and she's from Hilton Head, so it was basically fate. That doesn't mean they're guaranteed to be together now that the season is over, but they both want to make it work.
When Angela was evicted, she told Julie Chen that although she doesn't know what will happen outside of the house, she's open to a future with Tyler. "I don't know what the future holds, but I'm ready to start our next chapter," she said on Big Brother. "I absolutely adore him and I'm head over heels obsessed with him and I cannot wait to get to see him once we get out of here." Those were her feelings a week before finale night so I doubt much has changed since then.
During the post-Big Brother finale backyard interviews with Ross Mathews and Marissa Winokur on Off the Block, Angela and Tyler both revealed their immediate plans for the future. They plan to take their relationship to the next level. Not Swaggy C and Bayleigh TV proposal level, but they plan to move to the West Coast and move in together.
My heart is soaring right now for the Big Brother showmance some viewers never saw coming. That might be an overstatement, but after Faysel and Haleigh and Swaggy C and Bayleigh, I didn't think there would be another bona fide love connection. But apparently, Angela and Tyler are the real deal.
Following her eviction, Angela told TV Guide that she was hurt by Tyler's admission of his final two deal with Kaycee. Before he revealed that on eviction night, Angela had been in the dark. At the time, Angela said, "We'll see how our conversation goes and we will go from there," but things seem to be clearer now as they continue their relationship after Big Brother.
It's hard to say which of the three showmances are going to make it outside of the house. But evicted houseguest Rachel Swindler told The Hollywood Reporter that Tyler and Angela could have what it takes. "I know that Angela talked about Tyler early on and there has been something there from the start," she revealed. "They were being smart and not making it something. I'm interested to see how Tyler and Angela will work outside of the house. Their love connection is real, but how deep it will be outside I can't say for sure."
Although they spent the season as two powerful members of the Level 6 alliance, it wasn't until August that things started to heat up between Tyler and Angela. The live feeds showed them sleeping in the same bed more often than not and the cameras caught them snuggling a lot more than two friendly houseguests normally would. Eventually, they admitted to each other that they're in love and "Tangela" was born. And now, their plan is to take that relationship out into the real world and away from the prying eyes of live stream cameras.