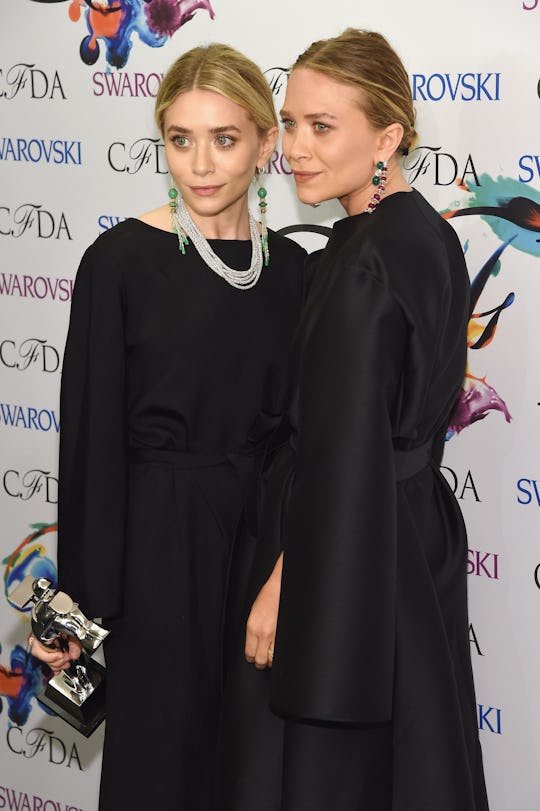 Larry Busacca/Getty Images Entertainment/Getty Images
Are Mary Kate & Ashley Olsen Friends With The 'Full House' Cast? It Certainly Seems That Way
When Fuller House was released last month, one of the only things viewers could talk about were the jokes and jabs about the Olsen twins not joining the crew. But are Mary Kate and Ashley Olsen good enough friends with the Full House cast enough to want to do whole other series with them? Turns out, they totally are.
A lot of the rumors about a feud began with cast member John Stamos tweeting that it was "bullshit" that the two women hadn't heard anything at all about a reboot. That all started because Mary Kate told Women's Wear Daily that she was "shocked" she hadn't from "John." She said, "I guess we're going to talk to the creators and see what's happening. " Uh, she gets to call Uncle Jesse by his real name? First name basis is definitely step one to being besties.
But really it's deeper than that. Stamos and the twins eventually did have a heart to heart about why they weren't into doing the show. They were actually busy running their fashion empire in New York City, which is just as true as much as it is the punchline to the first Michelle Tanner joke in Fuller House.
Think about it: Mary Kate was busy getting married this fall. Who has time for throwback sitcom jokes when you're wedding a Sarkozy? In reality, there's no real bad blood. Full House creator Jeff Franklin said at the Television Critics Association's press tour that it's not like they didn't try. "We all tried to persuade them to come and play," he joked. "They decided not to at this time, [but] we're hopeful at some point in the future that they'll change their minds and come back." Franklin then likened the group to a real family, saying, "I'm sure we've all had family reunions and not everyone shows up, but we still love them and the door is always open. I hope it happens."
Okay, so the Olsens might not be hanging out with the old crew on the daily, but it by no means seems hostile. It actually does feel more like they view the cast as their embarrassing relatives. Stamos himself is actually acting like an adorably awkward uncle these days, by posting old videos of the girls as babies on his Instagram account. Aww.
Mary-Kate and Ashley are chic and cosmopolitan, but it doesn't seem like they've totally forgotten their Full House fam. In fact, the group seems close enough that maybe a Michelle Tanner cameo wouldn't be such a reach next time around. Fingers crossed.