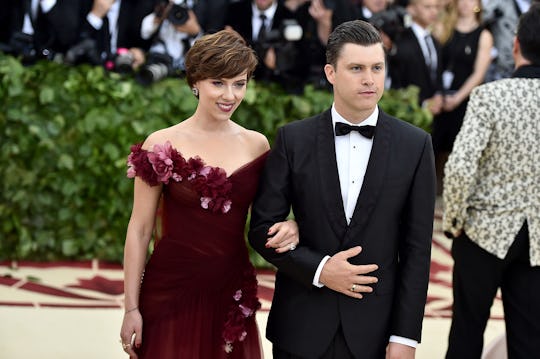 Theo Wargo/Getty Images Entertainment/Getty Images
Yes, Scarlett Johansson & Colin Jost Are Still Dating
For the first-time ever, Saturday Night Live cast members Michael Che and Colin Jost will host the 70th Primetime Emmy Awards, taking place on Monday, Sept. 17. Although most people remember the comedians from SNL's "Weekend Update," others may also know Jost by his relationship with a certain starlet. So with the news of his hosting duties, some fans may be wondering: Are Scarlett Johansson and Colin Jost still dating? Let's just say Jost's close friend and Emmy Awards co-host has a lot to say about the courtship.
In other words, the answer is yes, ScarJo and the SNL star are still dating, according to E! News. Jost and Johansson started dating back in spring of last year, but didn't make their official red carpet debut as a couple until the 2017 American Museum of Natural History Museum Gala in December, E! News reported. And it seems that their partnership is still going strong... much to Che's chagrin.
On Friday, the "Weekend Update" hosts went on The Ellen DeGeneres Show to talk about their stint as Emmy Awards co-hosts, so naturally, Jost's relationship came up as a topic of conversation, according to People. And you could say Che had some thoughts.
OK, it's not that serious... or serious, at all. But the friends did enjoy a bit of dramatized banter after DeGeneres asked Che how Jost dating Johansson had affected their close friendship.
Before Che could answer, Jost told DeGeneres, "He's going to cry." To which the 35-year-old New York comic responded jokingly, according to People.
Actually not anymore, because I'm dating a celebrity, too — she's a Times Square Elmo.
He added that Jost has "changed a lot since" he began seeing the Avengers: Infinity War star, claiming that his SNL co-write no longer invites him out, and "when you do, you ditch me," People reported. Apparently, though, Che's not the best at extending invitations himself, according to Jost, so it seems those two friends have a lot of issues to work through.
But... but... but... Che does have a very valid reason as to why he doesn't ask his "Weekend Update" buddy "to come over, hang out, have dinner," in the words of Jost. The comic said during the interview, People reported:
Well, yeah, because you're with Scarlett Johansson. I don't want to tell you to come to this dive bar with me and watch a Yankee game. I feel like maybe you have better things to do now.
Obviously, the back-and-forth between the SNL co-writers during their appearance on The Ellen DeGeneres Show was all in good fun. On the other hand, Jost and Johansson's relationship seems to be pretty serious. The 33-year-old actor and 36-year-old comic are quite private about their partnership, but when photographed together out in public, they often look very much in love. (I mean, the PDA is heavy.) Engagement rumors also began to swirl around back in March, according to The Daily Mail, but at this point, they should be taken with a grain of salt.
I am curious, though, if Johansson will make an appearance at the 2018 Emmys, considering that she met Jost on the set of Saturday Night Live, when he was a writer and she was a first-time host. This year's Emmy Awards ceremony is expected to be heavy on the SNL references as the show is not only airing on NBC, but will be produced by iconic SNL producer Lorne Michaels. So it wouldn't be surprising if Monday night's Emmy broadcast is a mini-reunion of old and new SNL cast members, plus a few of the show's favorite hosts.