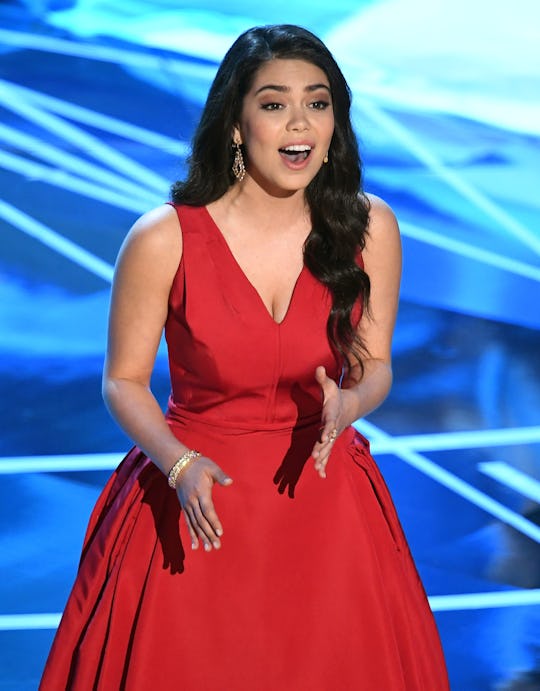 Kevin Winter/Getty Images Entertainment/Getty Images
Auli'i Cravalho Is An Oscars Pro For This Reason
I think we can all agree that the lead opposite Dwayne Johnson in the animated movie Moana is about to blow up. Mostly because she's amazing, but also because when Auli'i Cravalho was hit in the head during her "How Far I'll Go" Oscars performance, she didn't let it phase her at all. For the record, she's only 16 years old, you guys. Yeah, that's kind of amazing.
Not only was her performance prefaced by a Lin-Manuel Miranda prologue that was totally Broadway-worthy, but when one of her dancers brushed against her hair, Cravalho didn't even flinch. Cravalho voiced Moana in the movie and, even though it was the native Hawaiian's first major role, you wouldn't know it judging by her performance at the Oscars (and her voice in general). There's a reason she was chosen to performance instead of Johnson, who sang opposite her in the animated movie (and who joked that the Academy took one listen to his voice and said " no thanks" to a live performance from the former WWE star).
She's obviously going places, and getting hit in the head during her "How Far I'll Go" performance at the Oscars wasn't going to stop her. Like, at all. Cravalho's performance was simple enough and entailed her standing on-stage in front of a microphone in a simple red gown with dancers waving blue flags behind her. And when one hit Cravalho, her voice didn't even waver. How's that for professional?
At this point, you might still be calling her Moana, but something tells me that Moana is just the beginning of a huge career with that voice and that ability to perform not only under pressure, but in a situation where your backup dancers have no chill. Like most teenagers, Cravalho's life before stardom consisted of posting videos on social media or YouTube and the latter is where a Disney talent scout actually found her. And although, according to Harper's Bazaar, she wasn't sure that she even wanted to audition for the role since it might interfere with school, obviously it was the best choice she could have made.
Moana was nominated for two Oscars this year with Best Animated Feature Film and Best Song for "How Far I'll Go," so that's a pretty great start for Cravalho's career. Even if you haven't yet seen the acclaied Disney movie, you can totally appreciate the Oscars performance and Cravalho's voice in general since, like I said, this is a performance that somehow came from a 16-year-old young woman. Even though one of those beautiful but obviously dangerous blue flags hit Cravalho during her "How Far I'll Go" performance at the Oscars, she was a total pro throughout the entire thing.