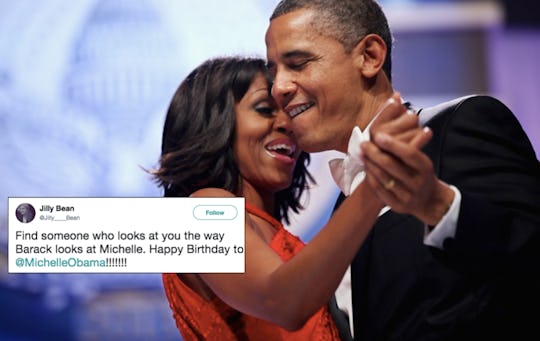 Chip Somodevilla/Getty Images News/Getty Images
The Internet Is *In Love* With Barack Obama's Sweet Birthday Message To Michelle
Barack and Michelle Obama's amazing romance has gotten their fans emotional on many occasions — but there's something about the way Obama is celebrating his wonderful wife's birthday this year that has the internet seriously tearing up. Wednesday marked Michelle Obama's 54th birthday, so naturally, President Obama wished her a happy birthday on social media. (He got her a gift too, but more on that later.) "You're not only my wife and the mother of my children, you're my best friend," he wrote on Instagram. "I love your strength, your grace, and your determination. And I love you more each day. Happy Birthday, @MichelleObama."
As if the words weren't already sweet enough, he posted them alongside an absolutely gorgeous shot of the couple. In the photo, Obama is staring at Michelle with so much love in his eyes that it could truly convince love's greatest skeptic to sign up for match.com. But even better than the sweet look on the former POTUS' face is his attire: he's wearing the tan suit. I repeat, he's wearing the infamous tan suit that just might have been the biggest American controversy of 2014. The internet meme'd that suit endlessly, and if Obama is using a photo of it to wish Michelle a happy birthday. Maybe that means she's a fan? (TBH, he looks good in it. Well, he looks good in everything. Including those dad jeans.)
Obama's birthday wishes for Michelle didn't stop there. When the former FLOTUS walked into her office on her birthday morning, she was greeted by a bouquet of flowers and a handwritten card from her hubby. Swoon. The name written on the envelope? "Miche." Double swoon.
(He's not the only one to call her by that nickname — Michelle told her mother "I'll always be your Miche" in an Instagram post last July celebrating her birthday.) Alongside the photo of her birthday flowers, Michelle wrote:
Thank you @BarackObama for the beautiful flowers waiting for me in the office this morning. You're my best friend, biggest fan, and getting notes and flowers from you will never get old. And to the many people from around the country who sent cards and posted on social media, you have no idea how much we love hearing from you. I know birthdays can sometimes be bittersweet (54!), but your messages of hope, generosity, and warmth have always reminded me how lucky and blessed we are.
Unsurprisingly, a ton of Obama supporters used the comments sections on both posts to express their love for the former first couple.
"We miss you and Barack so much it hurts and never fails to bring tears to my eyes just thinking of you. Those eight phenomenal years with you were miraculous," one Instagram user commented on Michelle's post.
"Happy birthday to my favorite First Lady of all time. We miss you more than you know. Much love this year and years to come!" added another.
"I love how he loves her!!!!" one more commented on Obama's post. "I need this kind of love and this kind of husband. God help me. Happy birthday to my role model @michelleobama," yet another added.
Plenty of others took their feelings to Twitter, articulating how much they adore Barry and Miche.
The power couple has proven to America time and time again that they have a rock-solid relationship — and the feels come out the most on holidays. On Valentine's Day 2017, Michelle tweeted a photo of her and Obama's feet chilling on a beach, calling him "the love of my life and favorite island mate."
On Obama's 55th birthday back in August 2016, Michelle Instagrammed an absurdly cute photo of the couple, captioning it, "55 years young and that smile still gets me every single day."
And on Michelle's birthday last year, Obama tweeted a charming photo taken on a golf cart at his inaugural ball in January 2009.
Hopefully Michelle is having a fantastic birthday — which shouldn't be hard, considering how much love her husband (and America) has for her.
Check out Romper's new video series, Romper's Doula Diaries:
Watch full episodes of Romper's Doula Diaries on Facebook Watch.