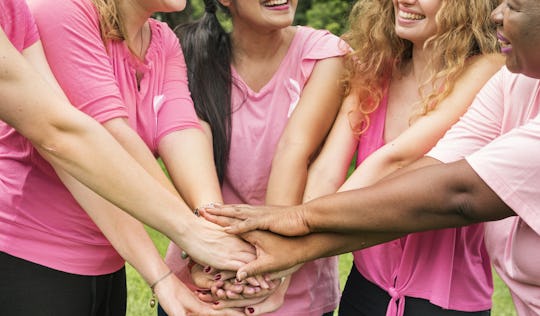 Shutterstock
These 13 Stunning Mastectomy Tattoos Honor The Beauty In Survival
Many women are looking for mastectomy tattoos to reclaim their bodies after an unfortunate reality when it comes to breast cancer, but some women don't let the cancer make that choice for them. My mom decided to have a double mastectomy when she was diagnosed with breast cancer in her right breast to make sure it never had the opportunity to come back in either side, and she is most definitely one of the most courageous women I know.
The person who did her reconstructive surgery didn't do a stellar job, and I know it bothers her that her new breasts aren't the shape she wants them to be in and that her nipples aren't where she'd like them to be. So many people find themselves in the same position, and after battling cancer, it seems completely unfair that they also have to worry about this.
Luckily, there are tons of mastectomy tattoo ideas, whether you're trying to cover a mastectomy scar, taking something hurtful and hard from your past and making it beautiful, or even creating realistic nipples after you've lost yours. The following tattoo artists are amazing in their craft and even more amazing because they specialize in something as personal and important as a mastectomy tattoo.
Looking for a tattoo artist who can do a design like one of these for you? P.Ink.org is an organization that tries to connect breast cancer survivors with tattoo artists who can give them a tattoo that's incredibly special for them. If you're looking to have one done, I'd highly recommend checking them out. It's clearly a very touching and empowering experience.