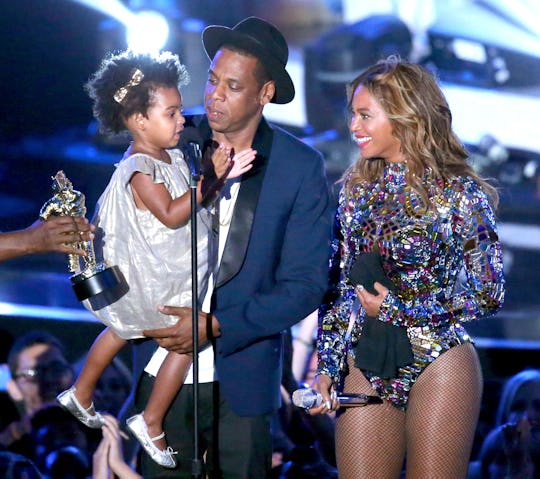 Mark Davis/Getty Images Entertainment/Getty Images
Best Reactions To Blue Ivy's Grammys Outfit
Beyoncé might have performed at the 2017 Grammys but, surprisingly, t's her daughter who got a lot of the attention. Well, not totally surprising, since she has parents like Beyoncé and Jay Z, but the best reactions to Blue Ivy's Grammys outfit that channeled the late Prince prove she's just as important as her superstar parents. Jay Z and Beyoncé are practically royalty when it comes to music, so it's not in the least bit shocking that they would channel one of the greats (who tragically and suddenly died in 2016) by dressing their daughter as none other than the Prince himself.
Before the Grammys aired Sunday night, there were rumors that Blue Ivy would be dressed in a big golden ball gown, a la Belle from Beauty and the Beast, but the reality was so much better. The rumor started with the image of the back of a little girl in said gown, but it proved to be a rumor when Blue Ivy showed up at the 2017 Grammys in her Prince-inspired outfit that had everyone talking almost immediately. Would you really expect anything less though, with parents like hers? It's basically in her DNA to command a room with her appearance, and through the night you could spot the little pink suit bopping around in various places (like the Carpool Karaoke bit, for example).
Honestly, though, the best reactions to Blue Ivy's Grammys outfit say it all when it comes to the mini-version of both Beyoncé and Jay Z channeling the late singer.
Beyoncé made a big statement with her performance at the Grammys, celebrating womanhood and motherhood and generally being amazing as to be expected. So it's really no shocker that she and Jay Z would use the Grammys as a chance to celebrate a fallen fellow singer and one who paved the way for so many. Beyoncé previously performed with Prince at the 2004 Grammys more than 10 year ago, giving them a legit history with the singer. Plus, Blue Ivy's Grammys outfit is just adorable on her regardless. In her mother's words, she slays.
Blue Ivy's Grammys outfit was made up of a pink suit and ruffled blouse underneath paying an obvious but unique homage to Prince. After wearing an $11,000 dress to the 2016 MTV VMAs, it was probably a struggle to find Blue Ivy something to top it. But paired with the perfect glittery pink purse, she definitely killed it.