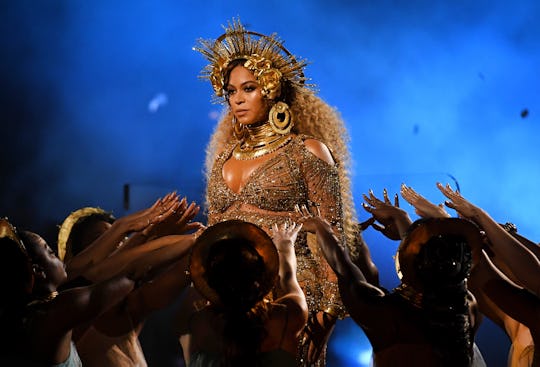 Kevork Djansezian/Getty Images Entertainment/Getty Images
Beyoncé Deserves Privacy Until Her Twins Arrive
Has Beyoncé given birth yet? It feels like she's been pregnant with twins since... forever, especially as every day ticks off another notch on my "Days Since I Thought Beyoncé Had Given Birth Already" tally. Unlike the birth of Blue Ivy at Lenox Hill Hospital in Manhattan, it appears as though Beyoncé will deliver her twins in Los Angeles, California. Her posh Holmby Hills rental is conveniently located close to Hollywood's "hospital of the stars" — Cedars Sinai Medical Center. While Beyoncé occasionally pops up on Instagram to share posts of cute belly photos, her lavish baby shower, and selfies with Blue Ivy, the 35-year-old singer has kept pretty quiet about these last few weeks — or even days — of her pregnancy. And you know what? Good for her. Beyoncé deserves privacy until her twins arrive, even though she is basically a living goddess who walks among us mere mortals.
According to The Daily Mail, Beyoncé has a major nosy neighbor problem at her rental home. Specifically, an unnamed source told the British website that Beyoncé and Jay Z have built a $1.27 million maternity ward in their L.A. rental home. Reps for the couple did not immediately return Romper's request for comment, and the tip is, as of right now, entirely unsupported speculation.
That a "neighbor" spilled the beans in such creepy detail is pretty terrible. Don't take my word for it — here's what the mystery neighbor had to say:
It is all about privacy and safety. It's not usual for someone expecting twins to have them at home, but Beyoncé has discussed it with her doctors. She's in prime physical condition and they are setting up a professional maternity unit inside the house for the birth.
"It's all about privacy?" — oh the irony in that statement. This source also added that food deliveries are arriving "all day" to Beyoncé and Jay Z's Hollywood rental.
Look, I get it: We are all excited for The Great Blessed Arrival of Queen Bey's Twins. From Beyoncé's glorious pregnancy announcement back in February and photo after stunning photo of her pregnancy journey on Instagram and her website, the world is beyond ready to meet the latest additions to the Knowles-Carter family. But international fame and glamor aside, Beyoncé is a lady who is very, very pregnant with twins during the summer. Could we maybe cut her some slack and give the woman a little space?
With the insane amount of publicity in anticipation of Blue Ivy's birth in 2012, I can totally respect Beyoncé's choice to go into full reclusive nesting mode right now — especially after the controversy surrounding her entourage allegedly putting the Lenox Hill Hospital maternity ward on lockdown when Blue Ivy was born. Even if Beyoncé really is building a full neonatal unit in her rental home, I don't blame her one bit for keeping things quiet. Of course, I'm not sure if she'll get her security deposit back if she gives birth at her rental home.
It's also entirely possible that Beyoncé has already given birth — and even if she has, it's still not really anyone's business until she and her family feel the time is right to announce the twins' arrival. All in good time folks, all in good time.