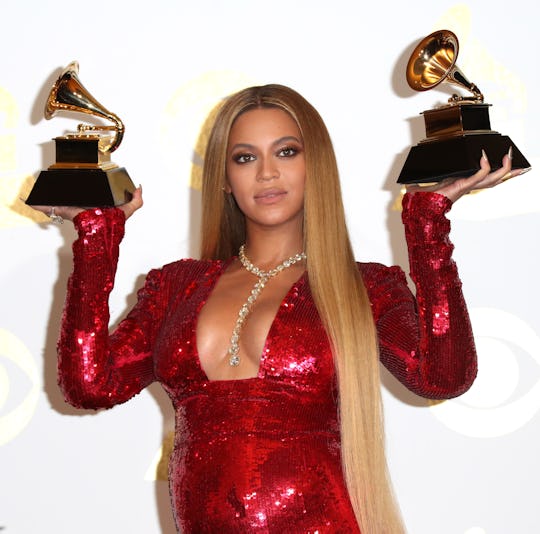 Frederick M. Brown/Getty Images Entertainment/Getty Images
Beyoncé Deserves Privacy While Her Twins Recover
There's really no way to even try to argue that the birth of Beyoncé's and Jay Z's twins hasn't been a totally huge deal. Sure, not everyone agrees that celebrity births should be considered newsworthy, and yes, there are plenty of other important events happening in the world. But when you're Beyoncé, it's kind of impossible to announce that you're expecting twins without setting off a total public frenzy. But even though interest about the birth might be inevitable, Beyoncé deserves privacy while she and her twins recover, no matter how famous and celebrated she may be.
While the news has yet to be confirmed by the couple themselves, the twins were reportedly born June 12 and are thought to be a boy and a girl, according to Us Weekly. On Sunday, Beyoncé's dad Matthew Knowles confirmed the babies' arrival in an Instagram post, in which he wished his newest grandchildren a happy birthday, and on the same day, TMZ reported that the singer and her babies were still in the hospital due to an unnamed "minor issue." Unsurprisingly, that has only added to the public's longing for more information — what was the problem? Are she and the twins OK? When will they be home? But as much as the nature of celebrity allows us to feel like we're totally entitled to all of that information, it's easy to forget that, Beyoncé is also just a woman who has given birth to twins, and the constant speculation over her delivery can't be easy.
You definitely don't have to be a celebrity to understand why Beyoncé might be needing privacy right now. Even in the best of circumstances — you had the world's easiest, quickest labor, let's say, and delivered a thriving, healthy baby — giving birth is still intense, and physical recovery alone can take some time. If you had a more difficult experience — if, perhaps, there were complications — the hours and days following the delivery can be downright grueling (although if you've ever had an unexpected C-section, "grueling" might feel like an understatement). Either way, in most cases you're also adjusting to the emotional impact of having at least one new, tiny human in your life — coupled with all the hormonal fluctuations that accompany it.
That's a big deal, and even if you've made a literal fortune from your life in the public eye like Beyoncé has, it seems only natural that you would want to protect yourself and your family as much as possible during that time. Following the birth of their daughter Blue Ivy in 2012, Beyoncé and Jay Z were publicly criticized for the heavy security presence at the New York hospital in which Beyoncé delivered, and over rumors that they'd spent a lot of money renting out (and possibly even renovating) multiple birthing suites for their entourage.
That understandably seems completely over-the-top, and it should be noted that the hospital shot down those stories as totally false, according to People. But even if they had been true, it may not have seemed like an outlandish idea to the parents-to-be: given the nature of their celebrity, coupled with the fact that they were welcoming their first child, it probably made sense. After all, giving birth for the first time can feel beyond nerve-wracking for any couple who has little to no idea what they should actually expect. If, on top of that, you also have to worry about things like photographers and "sources" leaking photos and information about your delivery to the press, maybe you'd want to take precautions, too.
What's more though, is that it's also entirely possible that Beyoncé and Jay Z hadn't even intended on staying mum about the birth as long as they have. Yes, they're basically the king and queen of keeping major details super hush-hush, but after Blue Ivy's birth, they released a statement only two days later. And judging by the other major celebrity twin birth of 2017 — George and Amal Clooney's twins, Ella and Alexander, who were born earlier this month — it clearly isn't a bad strategy to get out ahead of the story, and announce the details as soon as possible, as George did the day his children were born. But from what we've been told, the Clooney twins were born healthy and without issue. If Beyoncé and her twins are still in the hospital as reported, perhaps she and Jay Z have bigger things on their mind than releasing a statement.
When my own twins were born in 2012, they spent more than 100 days in the hospital NICU. And while it definitely doesn't sound like Beyoncé's twins will be requiring that kind of extended hospitalization, one thing the experience taught me is that having a baby in the NICU for any length of time can feel beyond devastating. And if you were expecting to give birth and bring your children home to the safety and comfort of your home, envisioning beginning your life together as a family of five, it can be heartbreaking to realize that the expectations you had had for your birth may have not gone according to plan.
The truth, of course, is that we still don't know anything about the twins' birth beyond the fact that her dad has said they've been born. Perhaps there were issues, and they're all still in the hospital, or perhaps everything was totally fine and they're just focusing on settling in at home and just don't actually want to say anything. Or maybe they're just waiting to announce the birth until they feel comfortable doing so, the way that all parents inevitably do when their children are born.
As much as reading about Beyoncé's twins is totally intriguing, and as much as she continues to live her life as an incredibly famous celebrity in the public eye, the truth is that we aren't actually entitled to anymore information about her delivery than she's willing to give. She might be Queen Bey, but she's no doubt craving the same kind of privacy and space that every new mom needs — and that every new mom deserves, regardless of how badly people want to know the details.