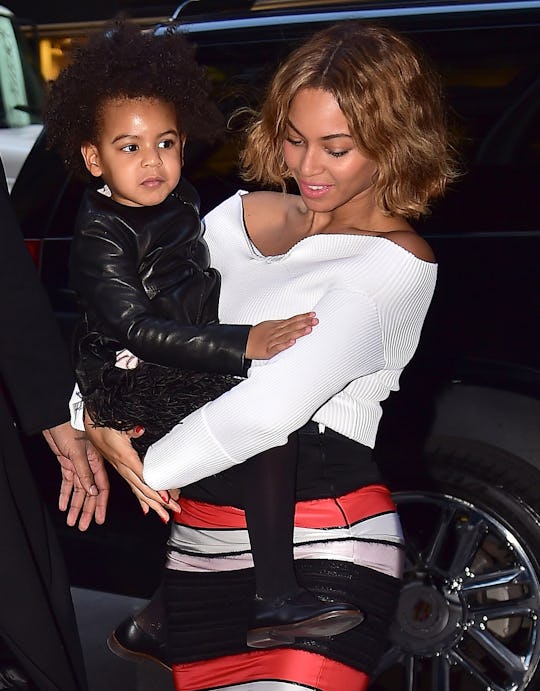 Alo Cabellos/GC Images/Getty Images
Beyonce Shares Photos Of Blue Ivy At The Super Bowl & They're Insanely Cool
Blue Ivy Carter, daughter of Queen Beyoncé and Jay Z is obviously way cooler than the rest of us. No question. And just hours after she literally broke the internet by announcing her Formation World Tour (sorry Kim and North), Beyoncé shared the cutest pictures ever of Blue Ivy on the field at Levi's stadium. Beyoncé is also in the photos, dressed in a Michael Jackson-inspired bodysuit (you know, what most moms wear), and getting in a couple extra minutes of rehearsal time before Super Bowl 50. There's even a cute picture of daddy Jay Z taking a few snaps of his two ladies doing their thing before kickoff.
Yes, the Carters are everything.
The extra bit of Blue-infused rehearsal obviously paid off, because Beyoncé owned a halftime show that was supposed to star Coldplay. Chris Martin was basically turned into Beyoncé's Left Shark, though, once she took the field with her Black Panthers-inspired posse of ladies.
I have a theory that Beyoncé's embrace of such obvious political activism in her new video, Super Bowl halftime appearance, and upcoming "Formation" world tour is all about that sweet curly-headed little girl. Because, as the mother of a little girl, I know first hand how looking down at your baby's face can turn just about any parent into a full-time activist. Beyoncé's always been an outspoken feminist, probably the most influential we've got, but "Formation" feels different.
"Formation" preaches about the beauty of her baby's afro, reminds Blue exactly where she comes from, and tells her in no uncertain terms that her blackness and her heritage are what makes her a powerful superstar. And with a mom as cool as Bey and a dad like Jay Z, you have to believe this little girl is going places.
Don't take my word for it, just take a look at Blue watching Beyoncé do her very awesome thing.
And then there's this glimpse of the Carter family in all of their coolness.
I'm sure we'll see plenty more pictures of Blue behind the scenes watching her mother as she takes on the world again on her upcoming "Formation" tour. I'm just looking forward to be taken along for the ride with these two very influential ladies.