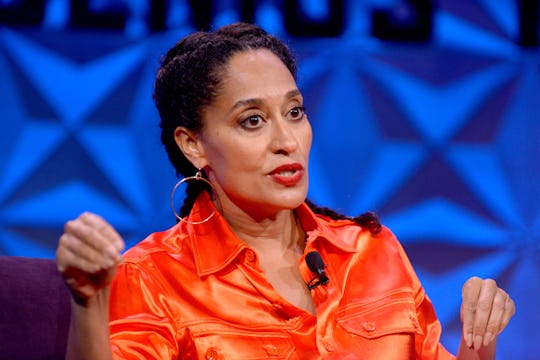 Jerod Harris/Getty Images Entertainment/Getty Images
Every Mom Will Appreciate How 'Black-ish' Handles Postpartum Depression
When real, but stigmatized, issues that people all the time face make their way into popular culture — and therefore, the national consciousness — it can make a world of difference for the people experiencing them. And that's definitely true for many moms dealing with a relatively common intense, and sometimes even debilitating, mood disorder after having a baby. So, they and anyone who loves them are sure to appreciate how the ABC hit Black-ish handles postpartum depression on Tuesday night's upcoming episode. Black-ish is known for confronting pretty serious issues with grace and heart — and, of course, just the right amount of humor, because it's a sitcom, after all.
Although the episode doesn't air until 9 p.m. Eastern Time, Black-ish star Tracee Ellis Ross stopped by Good Morning America Tuesday to chat about why she was so proud of the Season 4's "Mother Nature" episode. In case you're not obsessed with the sitcom just yet, Ross plays Bow, a successful doctor who just gave birth to her fifth child. As Ross shared on Good Morning America, her character has never experienced the symptoms of postpartum depression, but this time is different:
... [T]o experience it with her fifth was a little bit disconcerting for her, which happens a lot. And so I'm really grateful that we talked about this on the show, and we do it in a comedic way that doesn't make fun of the issue but actually shines light and kind of unpacks something that is not usually talked about.
When she said that postpartum is "not usually talked about," Ross was not kidding around. Becoming a new mom can be an isolating experience, and talking to anyone about symptoms such as severe anxiety and panic attacks, fears about not being a good mother, and even thoughts of hurting the baby can feel out of the question for a lot of moms dealing with postpartum depression. That's why it's so exciting when celebrities like Adele speak up about having gone through postpartum, and when dads such as OutDaughtered's Adam Busby share their own experiences to show that postpartum depression affects men, too. This helps to normalize postpartum depression, and could even ensure that more people seek out the help they need.
Because that's surely not always the case, as Black-ish writer and executive producer Corey Nickerson told Variety in discussing the episode. Because, lo and behold, she learned when she brought up her own experience with the issue in the writers' room that she was far from alone.
So she knew it was a topic that Black-ish should definitely tackle, she told Variety:
We have this great character, a strong, great mom, a successful doctor. Why don't we try to show women that it's OK to be dealing with something like this and still be good moms?
Even better, Tuesday's episode will be far from the first time that Black-ish addresses issues related to pregnancy and new motherhood. On the final episode of Season 3, Bow gave birth to baby DeVante eight weeks early after a case of preeclampsia forced her to have an emergency C-section. Because of the pervasive stigma attached to having a C-section, it was refreshing to see such a scenario play out during primetime.
And, on Good Morning America, Ross reflected on the challenge of finding a "balance between having postpartum and being funny and grounded in reality." So, it's pretty safe to say that the episode — which aptly airs on World Mental Health Day, by the way — will not disappoint. In fact, chances are that it will help to get some possibly life-saving conversations started.
Watch Romper's new video series, Romper's Doula Diaries:
Check out the entire Romper's Doula Diaries series and other videos on Facebook and the Bustle app across Apple TV, Roku, and Amazon Fire TV.