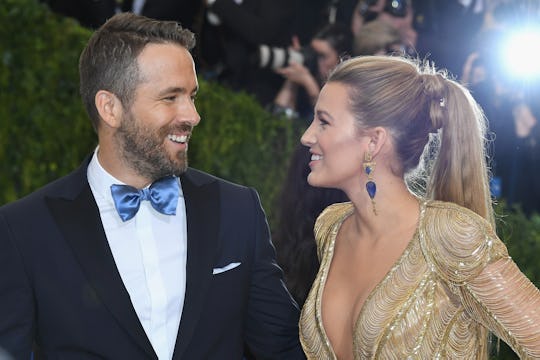 Dia Dipasupil/Getty Images Entertainment/Getty Images
Blake Lively & Ryan Reynolds' Cute New Voting Photo Featured An Unexpected Detail
As a busy mom of three, anyone could forgive Blake Lively for celebrating her husband Ryan Reynolds voting for the first time in an American election without a key element to her wardrobe — her shoes. But like a busy mom of three does in a pinch, the actress improvised and drew a pair of shoes on herself before posting the adorable photo to the 'gram.
On Thursday, Lively announced on Instagram that she and Reynolds had gotten their votes in early. Admirable, yes, especially since so much is riding on this year's election and Nov. 3 is mere weeks away. Lively poked a little bit of fun at her Canadian husband in the post, noting this was his "first time" taking part in the American election. "It was Ryan's first time. He was understandably scared. It all happened so fast. Like, REALLY fast. He wept. I pretended to weep. Then he called all his friend," she wrote.
Now normally, Lively and Reynolds' fans pay pretty close attention to their long history of social media banter. The couple have been gently trolling each other for years, much to the delight of their millions of followers.
This time around, fans were less interested in Lively's teasing and more interested in whatever was going on with her feet. At first glance, it looked as though she was wearing strappy heeled sandals with her pink jeans and elegant coat. A second glance revealed that someone had drawn shoes on her feet. And it was truly the mystery of the day.
As one eagle-eyed follower noticed, Lively appeared to have drawn red bottoms on her shoes, the hallmark of ever-coveted Christian Louboutin heels. "DID YOU DRAW YOUR HEELS AND INCLUDE A RED BOTTOM I LOVE YOU," they commented.
Lively owned up to drawing heels on her bare feet (as well as a pair of boots in a different photo, because she is apparently an overachiever) in a series of Instagram Stories, where she zoomed in on her feet and wrote, "@louboutinworld are you hiring? Barefoot iphone doodler with vast experience avail... "
The actress did explain why she had drawn shoes on her feet, and it had a whole lot to do with being excited to be out in public wearing an outfit. "Can you tell I was so happy to get outta a onesie and vote? Sure it was an absentee drop off ballot with a mask covering my look. But damnit I exercised my right to vote. And to not wear shoes that ruined my outfit," she wrote.
As mom to three daughters — 5-year-old James, 4-year-old Inez, and 1-year-old Betty (at least we think that's her name based on Taylor Swift's song) — Lively is bound to be pretty busy. So if she wants to entertain herself by drawing shoes on her feet when she is just so excited to be out wearing a cute outfit, who are we to stop her?