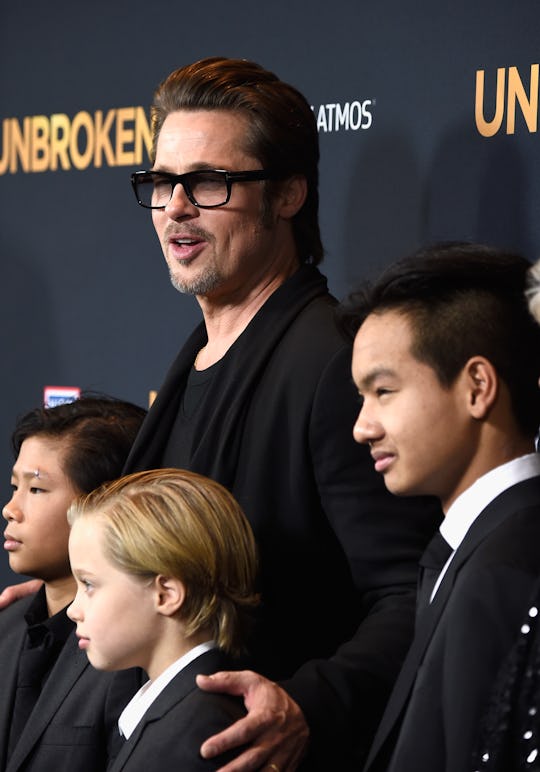 Frazer Harrison/Getty Images Entertainment/Getty Images
Brad Pitt's Reaction To The Child Abuse Allegations Is An Unequivocal Denial, Source Says
News of the uncoupling of A-list movie stars Brad Pitt and Angelina broke on Tuesday, sending the internet into a frenzy over the demise of Hollywood's seemingly picture-perfect golden couple. Just two days later, TMZ reported on allegations that Pitt is being investigated for child abuse, throwing a serious wrench into Brangelina's impending divorce and possibility of a relatively smooth separation. While we've yet to officially hear Brad Pitt's reaction to the child-abuse claims, a source close to the actor told The Independent that:
He takes the matter very seriously and says he did not commit any abuse of his children. It's unfortunate that people involved are continuing to present him in the worst possible light. I think the most important thing is the fact that he is cooperating and that he takes it seriously, he recognizes it is a serious matter and he is willing to do whatever will be best for his family.
Romper has reached out to Pitt's representative for comment and has not yet received a response. But according to TMZ, the Sept. 14 incident on the family's private plane is what prompted Jolie to file for divorce and seek sole physical custody of the couple's six children: Maddox Jolie-Pitt, 15; Pax Jolie-Pitt, 12; Zahara Jolie-Pitt, 11; Shiloh Jolie-Pitt, 10; and twins Knox Jolie-Pitt and Vivienne Jolie-Pitt, 8. Whether the accusations against Pitt turn out to be true, the matter has given additional weight to speculation that differences in parenting styles are the root cause of their split.
Hints about potential discord over their parenting methods have been swirling for years. In an interview with The Telegraph last year, the 52-year-old Pitt said he played the role of "disciplinarian" to the couple's three sons.
I am [the disciplinarian] with the boys. Girls do no wrong, so I don't have to be. I feel like my job is to show 'em around, help them find what they want to do with their life, put as many things in front of them, and pull them back when they get out of line, so they know who they are.
Back in 2012, Jolie made a similar comment to OK! Magazine, saying "I used to be the tougher parent but since the birth of the twins, Brad's had to play bad cop more often. It also depends on which of the children we are talking about." However, she's also been quick to compliment Pitt's parenting skills in the past, telling The Mirror in March 2014 that:
He loves being a father and that's one thing I'm most proud of about him. With a large family, you need that support. Brad is a wonderful teacher and guide, for the boys in particular. He likes to plan things and proceed in a very deliberate and methodical way. He is much cooler and calmer... I can be more impulsive and outspoken.
Pitt quickly released a statement following Tuesday's revelation that Jolie filed for divorce, so it's safe to assume he'll likely comment on the child-abuse reports at some point Thursday. While the LAPD and L.A. County Department of Children and Family Services were said to be investigating the alleged incident, LAPD Officer Jenny Houser denied those claims, telling CNN that "LAPD is not handling any report of allegations of child abuse for Mr. Brad Pitt."