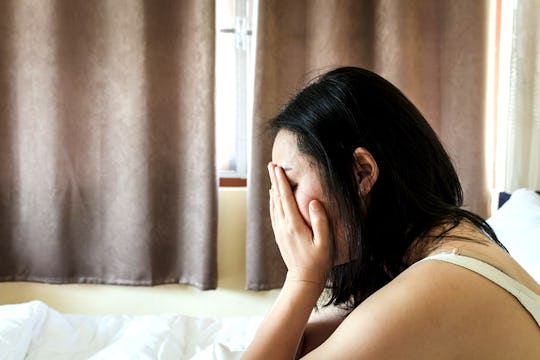 Shutterstock
6 Things That Happen To Your Body When You Break Up With A Friend
Losing a friend is hard. In fact, in many cases it can feel more devastating than losing a romantic partner. And while the emotional impact of a friendship-gone-awry is arguably well-known -- anger, insecurity, sadness, regret, jealousy -- the physical symptoms are rarely, if ever, discussed. Yes, there are things that happen to your body when you break up with a friend; things that put the heartache into physical context.
To find out more about how the grief of losing a friend can manifest in our bodies, Romper spoke with Akron, Ohio-based Licensed Professional Clinical Counselor Maryann W. Mathai, LPCC, NCC, who specializes in trauma-focused therapy, and Dr. Sherrie Campbell, PhsyD, author of But It's Your Family: Cutting Ties with Toxic Family Members.
Mathai tells Romper that the emotions we feel can have a significant impact on our bodies. "Researchers have found our emotions and bodies are connected," she says. "Our bodies secrete stress hormones when we experience painful emotions such as grief or loss, which, in turn, trigger somatic symptoms." And these physical manifestations of our feelings can be intense, too. "The physical impact of heartbreak is tremendous," Campbell explains. "It can create exhaustion, lack of sleep or too much sleep, loss of appetite and motivation, and bouts of crying."
Losing a friend can actually be more difficult than breaking up with a lover, according to Dr. Seth Meyers, Psy.D., a clinical psychologist, who wrote a piece on the subject in Psychology Today on Jan 13, 2015. We don't always expect a friend breakup to hurt as much, and we aren't always as motivated to acknowledge that pain when compared to the pain of a failed romantic relationship. "We tell ourselves that not having to lose sexual intimacy should make losing the friendship less painful than when we lose a romantic relationship."
The key way to recover after breaking up with a friend is to avoid ignoring your symptoms, or hoping they go away on their own, Mathai says. "Attending to the pain and anxiety, instead of avoiding it, will help alleviate it in the long run."
For more on how losing a friend can hurt — literally — read on: