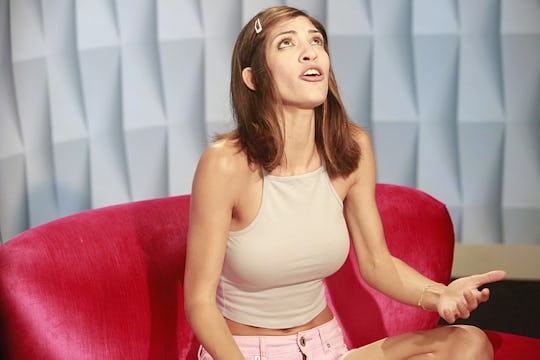 Bill Inoshita/CBS
Bronte's Comments About James On 'Big Brother 18' Are Not OK
Trash talking, gossiping, and general backstabbing for the sake of the competition are all things Big Brother are made of and we all love the show for it. But when the comments of one houseguest about another become about more than just another player's game play, it's not OK anymore. Like Bronte's alleged comments about James on Big Brother 18 and the racial undertones that were just disgusting and uncalled for. It's one thing to want to trash talk the competition, because who doesn't do that when you're on Big Brother and fighting for a $500,000 prize? But it's a whole other ball game when you're insulting someone's heritage and speaking of them in a negative tone.
It's not really too much of a stretch for Bronte to be talking about another houseguest, since on both the show and the live feeds, that seems to be what the mathematician thrives on. But it's still disappointing to hear her talk about James, who wouldn't hurt an ant (that includes the ones currently infiltrating the house) and has been America's fave since his own season of Big Brother. Maybe her strategy is to target the houseguests who seem to be weaker or less confrontational, i.e. Nicole and James, but to win or get far that way isn't cool either. Major props to Frank, though, for having James' back and telling him when the group of Big Brother bullies were talking about him behind his back. These newbies are proving themselves to be kind of awful compared to the veterans. Flashback to Big Brother 15, anyone?
Pranking in the Big Brother house has been James' thing since before Big Brother 18, and it honestly makes the show that much more awesome between competitions and evictions. Victor confronting James about his pranking was something that didn't even need to happen the way it did. With his sidekick Paul, Victor was like the high school bully who doesn't ask you to do or not do something, but tells you, like they're in charge. You know the type.
Of course James trying to be an adult and telling Victor to lighten up didn't really help any, since when a bully is on a mission, they don't know anything about reason or maturity. And it should probably be noted, for Bronte's sake, that even if you whisper in a house full of cameras, your words will be heard and used against you. Especially when Bronte's comments about James were totally uncalled for and ignorant and should be used against her.
Sadly, these type of comments are not new for Big Brother contestants. Houseguests past have made racist comments before, and it has only hurt them in the long run. Not only is it a sure way to create animosity in the house, but it also creates a lot of anti-fans outside the house. The way that the houseguests are separated from the public will not lend a helping hand in telling Bronte to not say these things. Hopefully she sharpens up and keeps her comments to herself — or even better, not think them at all.