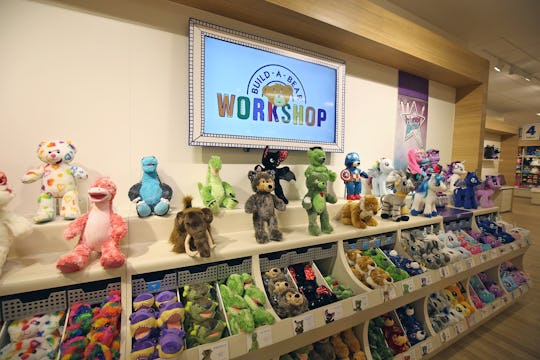 Adam Bettcher/Getty Images Entertainment/Getty Images
Build-A-Bear's Giving Tuesday Sale Will Donate Thousands Of Toys To Needy Kids
The holidays are right around the corner, which means parents everywhere are busy making their gift-giving lists. These days, there's so much marketing bombarding our kids, forcing them to obsess over the "getting" part of the holidays, that it's hard to keep the spirit of generosity alive during what's supposed to be the season of giving. Luckily, there is a kid-friendly event coming up that celebrates spreading joy to others: At the "buy one, give one" Build-A-Bear Giving Tuesday sale, when you bring home a new furry friend you'll in turn brighten the holiday of a child in need.
In honor of Giving Tuesday, if you purchase an animal (at either a Build-A-Bear Workshop store or online at buildabear.com) between November 27 and December 4, Build-A-Bear will donate one teddy bear — up to 20,000 bears — to children through the Marine-sponsored Toys for Tots Foundation, according to a press release.
You'll also receive an "I Donated" sticker, which your kids will love to wear as a badge of honor. This event is the perfect opportunity to show kids how good it feels to give to others (particularly when you're giving teddy bears!).
If you miss out on making your purchase during these special dates, not to worry. Guests who shop in stores can also donate new and unwrapped toys to the Toys for Tots Foundation or make a monetary donation at checkout to benefit children in need, starting now through December 26th. There are so many ways to give this season (at Build-A-Bear and beyond), and getting your child in on the act is setting them up to understand kindness and generosity.
As for other Build-A-Bear holiday happenings on the horizon, the Giving Tuesday event is just the beginning. There are special in-store goings-on for kids where workshop guests can sign the "Nice List" and participate in other activities such as a "Wishes Scavenger Hunt," or take shareable photos with the Build-A-Bear mascot, Bearemy. Families can also enter to win their Build-A-Bear Wish List.
And don't forget about Black Friday, of course! Build-A-Bear is having some amazing Black Friday sales, including a "buy one get one for $6" offer. This deal starts on November 26 and is good for any plush animal, like this super adorable Twinkle with Medallion reindeer ($26, Build-A-Bear).
There are plenty of other holiday-specific characters to choose from, including a bunny, a moose, a pup, and lots more reindeer, too. You're really in luck if you have a penguin lover at home, though: Starting on November 23, you can snag a 12-inch pink or black Snow Hugs Penguin plush toy for only $6. I know, a 12-inch plush for under 10 bucks? This Doorbuster Deal eems too good to be true, but the holidays are magic, after all. (Clothes and accessories are sold separately, it should be noted, and the penguins are limited to two per person while supplies last.)
For more details about Build-A-Bear's Black Friday deals, check out the website... and do it soon!