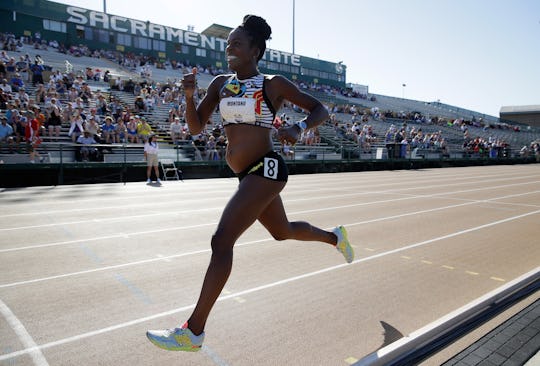 Andy Lyons/Getty Images Sport/Getty Images
Pregnancy Doesn't Always Stop Olympians From Competing & Here's Why
In case you missed the memo, women are all kinds of amazing. Whether they are bosses, making a name in a male-dominated field, or ensuring every detail is in place for their kids (or all of the above), they have the whole killing-it-at-life thing down pat. That's why it's no surprise that those same women are preparing for the 2018 PyeongChang Games, gearing up to compete in events ranging from hockey to snowboarding to curling. Many of the athletes are parents, but what about those who have been training while TTC? Can you compete in the Olympics if you're pregnant?
Well, if past Olympians are any indication, then the answer is a resounding "Yes!" After all, German skeleton racer Diana Sartot competed in the 2006 Turin Olympics while nine weeks pregnant and German snowboarder Amelie Kober competed in the 2010 Olympics in Vancouver while two months pregnant. According to SplinterNews.com, Kober revealed her pregnancy in an interview at the games, saying, "It is true that I am sitting out this season aside from this one race, because I will become a mom."
Even Swedish figure skater Magda Julin competed while three months pregnant in the 1920 Antwerp Olympics and received the gold medal.
Dr. Raul Artal, who co-authored a report commissioned by the International Olympic Committee in 2015 to study elite athletes and pregnancy, told TeamUSA.org that carrying a child "should not be a state of confinement, but rather an opportunity for women to continue an active lifestyle or to adopt an active lifestyle if they were not active before."
For elite athletes, Artal said he has "no concerns about continued training and competing." He recommended that female athletes keep their heart rates around 145 to 160 beats per minute (BPM) for ages 20 to 29 and 140 to 156 BPM for ages 30 to 39. Of course, the rule of thumb to check with your doctor applies here too — athlete or not.
Beyond the Olympics, elite athletes are also choosing to stick with their sport while pregnant. In April, Olympian Alysia Montaño announced she was expecting her second child in November, but that didn't keep her from racing in June's USA Outdoor Track and Field Championships in Sacramento, California (pictured above). Montaño, who finished fifth in the 800 meters at the 2012 Olympics, also competed at the 2014 U.S. Championships while eight months pregnant with her daughter Linnea, according to Sports Illustrated.
I mean, I just can't even with this woman. She's amazing.
On the other hand, my sister Amanda is not an Olympian, but she is a competitive athlete and certified run coach through the USA Track and Field (USATF) and the Road Runners Club of America (RRCA). When she was 22 weeks pregnant, she ran a half marathon and logged miles the day before her son, my gorgeous nephew Oscar, was born. Her doctor consistently told her it was OK to proceed with what she had been doing prior to becoming pregnant — running long distance and strength training — as long as she was willing to take it slower and watch for warning signs that were pointing for her to take a break.
Red flags while exercising and pregnant include vaginal bleeding, dizziness or lightheadedness, unusual shortness of breath, racing heartbeat or chest pain, and/or unusual pain, according to the American Pregnancy Association (APA).
Overall, however, experts agree that exercise during pregnancy is not only OK, but may be beneficial in other ways, such as improving your mood, increasing energy, and reducing backaches, constipation, bloating, and swelling, according to APA. I mean, after all, while you and I may not be Olympians, we are certainly happy to kick irksome pregnancy symptoms to the curb, right?
Check out Romper's new video series, Bearing The Motherload, where disagreeing parents from different sides of an issue sit down with a mediator and talk about how to support (and not judge) each other's parenting perspectives. New episodes air Mondays on Facebook.