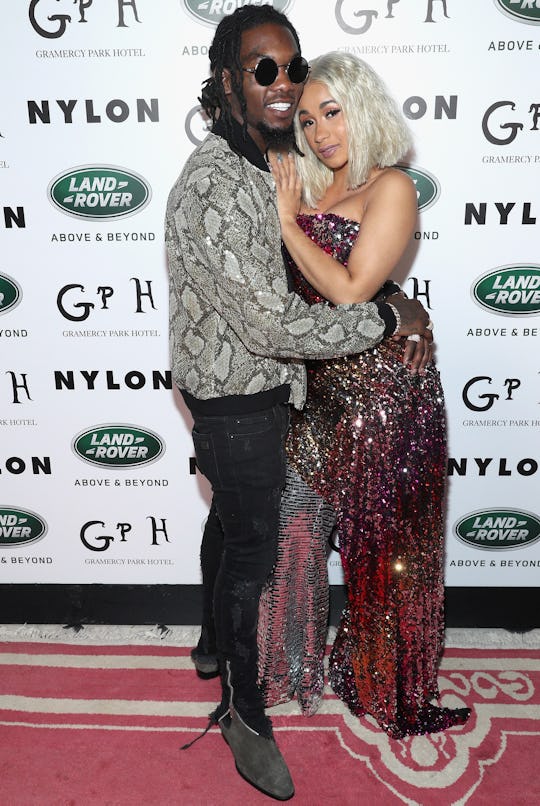 Rob Kim/Getty Images Entertainment/Getty Images
Cardi B & Offset's Relationship Timeline Shows How Their Rollercoaster Romance Began
It's not often that celebrities can get away with completely fooling the public, but news released on Monday shows a masterful level of secrecy shared between two top rappers. While their engagement at a Migos concert last year and Cardi B's pregnancy reveal in April were both very public affairs, the fact they were actually married before all of that went totally undiscovered until now. And looking back at Cardi B and Offset's relationship timeline shows their love story really has been quite the rollercoaster.
In case you've just recently started following along with Cardi B's journey, here's a bit a background. For starters, there seems to be nothing that Cardi B touches that doesn't turn to gold, but her monumental success has been hard-earned. She's spoken many times about her youthful experiences with gangs, time working as a stripper, and the dangerous changes she made to her body to earn more money, according to GQ. But all her risks have paid off, and at the 2017 BET Hip-Hop awards she won five trophies and brought down the house with her performance with Bruno Mars, according to Entertainment Weekly.
Offset, for his part, hails from suburban neighborhood northeast of Atlanta, according to Rolling Stone. He's been making music with two relatives who formed the rap trio Migos in 2009. Bandmate Quavo has commented on their relatively normal youth, relative to many stories of rap artists. "I ain't going to sit here like, 'My neighborhood was hard, and I had to get out there and grind,'" he told Rolling Stone. "We made it hard for ourselves. We chose to stay on the streets."
Cardi B and Offset couldn't seem more different, but they're like two sides of the same coin. And here's a look back at how their epic romance began.
February 2017
She usually calls him "Set", not Offset, according to GQ, in an extensive interview published in April 2018. Just one month after meeting in January 2017, according to GQ, the couple went on their first official date, to the Super Bowl in Houston. She was worried about dating a rapper, she told GQ:
Around Super Bowl time I told my publicist to tell him, because I was very shy, "Listen, if we gonna go on a public date together, you cannot make me look like a dumb-*ss after this." I never wanted to date a rapper because I would hate to look crazy in public.
But they were smitten, and a few weeks later they made it Instagram official when Cardi posted a video taken during the Super Bowl to Instagram, according to Billboard. But then, she suddenly pulled back from her public declaration; in a March 2017 interview with Fader magazine, she responded to a question about what it's like to date a guy from Atlanta. "I'm not saying I'm dating an Atlanta guy," she responded, and dodged confirming the relationship at the time.
May 2017
It was in May 2017 that the couple teased the public again, this time showing up together to a Met Gala afterparty at New York City's 1OAK, according to Us Weekly. Later that month they appeared together in the video for Cardi's song "Lick" from her album Gangsta Bitch Music, Vol 2.
Still, in another interview with Fader she played coy, calling him "the boy" and complimenting his work ethic. "I see how good things are going for them [Offset's group, Migos] and how popping it is to be number one. And I'm like, I want that," she told the magazine.
June 2017
In June 2017, their relationship officially entered "it's complicated" status, according to Hollywood Life, ahead of the BET Awards. The site spoke with a source who reportedly said, "Cardi's not taking Offset as her date, she's playing it cool with him right now. He didn't ask her to go with him and she's for sure not going to ask him. They're still talking to each other, but it's complicated."
July 2017
It got less complicated in July 2017 when Offset bought his girl a chain worth $60,000, which she debuted at a Meek Mill concert, according to TMZ. The designer posted a photo of the custom jewelry to their Instagram with Cardi tagged.
October 2017
Offset continued taking his love public when he proposed to the rap superstar on stage a Migos concert in October 2017, with an 8-carat engagement ring, according to USA Today. She posted a photo to Instagram with the caption "Jesus Christ I'm so emotional, @offsetyrn I loveee you so much," she captioned the photo, which has since been deleted when. "Thank you for seeing the potential in me since you met me … I can't wait to spend FOREVAAAA with you. Lets make a lot shmoney and love together."
December 2017
In December 2017, Offset's iCloud was reportedly hacked, according to GQ, and video of him with another woman was released. The next month, he seemed to want to make a bold statement, and showed up with a tattoo of Cardi's name on his neck, according to People.
February 2018
Moving forward to February 2018, Cardi told Cosmopolitan she had every intention of seeing the relationship through:
I know I look good. I know I'm rich, I know I'm talented. I know I could get any man I want—any basketball player, football player. But I want to work out my sh*t with my man, and I don't got to explain why. I'm not your property. This is my life ... I'm going to take my time, and I'm going to decide on my decision … It's not right, what he f*ck*ng did — but people don't know what I did, 'cause I ain't no angel.
This past February also marks the beginning of what were once rumors about about Cardi B's pregnancy, after her reps reportedly told people she was expecting while at a Super Bowl party, according to TMZ.
April 2018
Months later came that epic Saturday Night Live performance in April 2018. The one where Cardi shed her oversized coat for her second performance of the show and donned a white dress that showed off a bump. The camera held tight on her upper body until a little over halfway through the performance, when it pulled back to reveal her pregnancy.
June 2018
In June 2018, the couple graced the cover of Rolling Stone together with an article that told their "hip-hop love story" and on June 25, TMZ broke the news of their marriage. As it turns out, Offset first proposed to Cardi privately in September 2017 and they tied the knot that very day in their bedroom, according to Vulture.
Cardi took to Twitter to make a statement on the same day reports of their marriage broke, saying:
There are so many moments that I share with the world and then there are moments that I want to keep for myself! Getting married was one of those moments! Our relationship was so new breaking up and making up and we had a lot of growing up to do but we was so in love we didn't want to lose each other.
She also addressed the public proposal in the same statement, writing: "I appreciate and love my husband so much for still wanting for me have that special moment that every girl dreams of when he got down on his knee and put a ring on my finger and he did that or me!!"
What a whirlwind romance. Here's hoping any and all drama is behind them as they settle into their public lives as husband and wife — and soon enough, mom and dad.