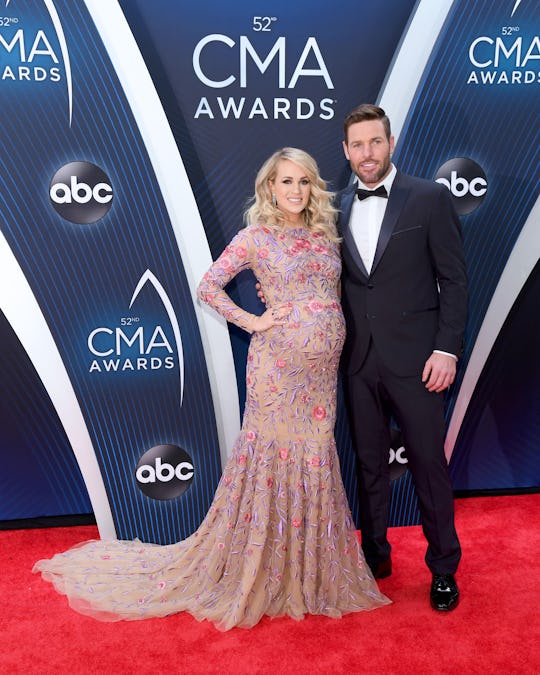 Jason Kempin/Getty Images Entertainment/Getty Images
Carrie Underwood's Pregnancy With Baby No. 2 Has Been Keeping Fans Guessing
As I'm sure we've all long since figured out, the coolest trends in celebrity pregnancies are either making sure to eke out information at a slow trickle or sharing every moment of your day. There appears to be very little in between. Carrie Underwood definitely falls into that first category. Since announcing that she was expecting this summer (in conjunction with her announcement that she would be touring for her Cry Pretty album), the singer has been careful about how she shares her information. As of right now, here's what we know about Carrie Underwood's pregnancy with baby number two. That girl likes to keep her fans guessing, that's for sure.
The "Before He Cheats" singer and her husband, NHL hockey player Mike Fisher, are already parents to 3-year-old son Isaiah and are expecting a second child. How do we know this? Underwood shared the happy news on Instagram in August with a video announcement where she told the world, ""Mike and Isaiah and I are absolutely over the moon and excited to be adding another little fish to our pond. This has just been a dream come true with album and baby news and all that stuff we're just so excited."
To be perfectly fair to Underwood, she had her reasons for holding off on the announcement, as she explained to PopCulture in a September interview:
Obviously, you kind of want to reach a point in your pregnancy where you're sure that everything is going well before you let other people in on it. Stuff like that was important. You don't want to jump the gun and then have to take it back.
The only reason she decided to share the news was because it was getting harder to cover up, as she said in that same interview:
I was like, 'I guess today's the day. I can't hide this anymore. Going to the grocery store and it's 90-something degrees outside and I'm in giant hoodies. It was just time to put it out there.
While Underwood was happy to tell the world she was pregnant, she still kept a few things to herself for awhile. Like the sex of the baby and the due date, for instance. But all great secrets must end, it seems, and Underwood's second baby's sex was revealed during some rehearsed banter during the Country Music Awards in November with her co-host and friend, Brad Paisley. She and Fisher are expecting another boy... oddly enough, that's exactly how her first son's sex was revealed as well. "Accidentally" blurted out by Paisley at the 2014 CMAs, as per CNN.
Now that fans know Underwood is expecting a second son, it seems she's okay with letting us know a few more details as well. Like the all-important due date, for instance. Although she wasn't the one who technically let her due date slip; Taylor Dye of country duo Maddie & Tae, who will reportedly be opening for Underwood on her Cry Pretty tour, told Us Weekly that the singer is expecting her baby in January.
So there you have it, folks. The trickled out little bits of information about Carrie Underwood's pregnancy for her second child. The singer is very on trend with the secrecy; she should be very proud of herself.
Season 2 of Doula Diaries shares the stories of fearless doulas helping their clients take control of their births and make tough choices that feel right to them. Watch the first episode of the new season Monday, November 26th.