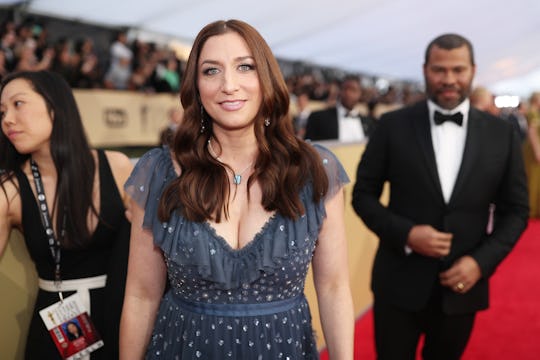 Christopher Polk/Getty Images Entertainment/Getty Images
Chelsea Peretti's Funniest Mom Instagrams Show She's All About Keeping It Real
Celebrity moms on social media seem to mostly come in one of two varieties. There are the moms who happily share photos of their beautiful baby bumps and joy-filled pregnancies (or of their gorgeous, well-behaved children drinking green smoothies and living their best lives in immaculately gorgeous homes); and then there are the moms who have zero desire to hide the fact that, celebrity or not, motherhood often means you're a total hot mess. But as swoony as those picture-perfect moms' lives appear to be, there's nothing more validating than a photo of a breastfeeding celeb mom pumping milk in the bathroom at a red carpet awards ceremony, Chelsea Peretti-style. In fact, Chelsea Peretti's funniest mom Instagrams make it pretty clear that the Brooklyn Nine-Nine star would be a total blast to hang out with — and that, most importantly, she probably wouldn't judge you for showing up to a play date with baby vomit in your hair.
If you don't already follow Peretti on Twitter, then you are seriously missing out (her pinned tweet is a photo of a grilled cheese sandwich, which I feel basically tells you everything you need to know). But while the actress and comedian's tweets are always on point, her Instagram feed is just as great. Even though she makes a point not to actually share photos of her infant son, Beau, on social media — she and husband, Get Out director Jordan Peele, welcomed their first child in July, according to People — Peretti still manages to nail to absurdity of mom life in many of her posts.
Her Pregnancy Reveal Shoutout To Beyoncé
Although celeb moms-to-be all seem to have different opinions on sharing their baby news (some come out with the announcement on a magazine cover, while others go months without commenting, ahem, Kylie Jenner), it seems pretty safe to say that no one does a pregnancy announcement quite like Beyoncé. Peretti happened to have the misfortune of being newly-pregnant at the same time as Queen Bey, and shared her low-key pregnancy announcement only a few days after Beyoncé's Instagram-shattering twin pregnancy reveal by posting a low-light mirror selfie that showed off her bump. The oh-so-perfect caption? "beyonce schmonce."
When She Called Out The SAG Awards Statue
Peretti recently attended the Screen Actors Guild Awards with Peele, and the couple looked totally glam on the red carpet. But, since the actress isn't afraid of poke fun at herself in the very best way ever, she used the photo as the perfect opportunity to make a penis joke. In the caption, Peretti wrote, "when some guy has his gold ballz r on yr shoulder while he tries on masks."
Her Hands-Free Pumping Bra
If you've ever used a breast pump, you know it's not usually something particularly enjoyable — and it's also basically impossible to feel even remotely attractive while doing it. But while I'd imagine that most pumping moms would completely balk at the idea of sharing a pumping selfie with the world, Peretti was totally game. In fact, not only did she snap a pic of herself in a zip-up, hands-free pumping bra (simultaneously the best and worst thing you can wear if you're a nursing mama), she took the pic while pumping at the SAG awards in full hair and makeup, because, of course.
When She Checked Her Phone At The Golden Globes
Before pumping at the SAG awards, Peretti attended the Golden Globes. And while it seems like getting to be at the star-studded event would be totally cool, Peretti's eagle-eyed followers quickly noted that, uh, she was actually sitting there on her phone during the ceremony. Peretti responded and said that she had a really good reason — she was trying to figure out when she had to go pump! But because she's not at all ashamed to appear as though she's scrolling through Facebook on her phone while at an A-list event, she posted the photo to Instagram, and wrote, "texting to pull off a fine-tuned ballet to get me out to pump on schedule and in privacy 💖❤️ never knew what moms do - so many surprises!"
Her Diaper Pail Mirror Selfie
Most moms with little ones will agree that it doesn't take long before your whole life gets taken over by all the stuff (honestly, it seems to come out of nowhere). It's one reason why the picture-perfect Instagram moms are so baffling — seriously, where do they keep it all? — but unsurprisingly, Peretti isn't ashamed. As an expert at slightly-awkward selfies, Peretti posted a shot of herself in the mirror along with a baby play gym, an exercise ball, and, for good measure, a diaper pail. The caption? "Me and a diaper pail 💖"
Of course, many of Peretti's followers would love to see more photos of her life as a mom, and specifically of her with her little boy. For now at least, she isn't up for sharing (which makes complete sense), though it's obvious that motherhood has had a huge effect on her life. One thing that hasn't changed though? The fact that she totally has her social media game down.
Check out Romper's new video series, Romper's Doula Diaries:
Watch full episodes of Romper's Doula Diaries on Facebook Watch.