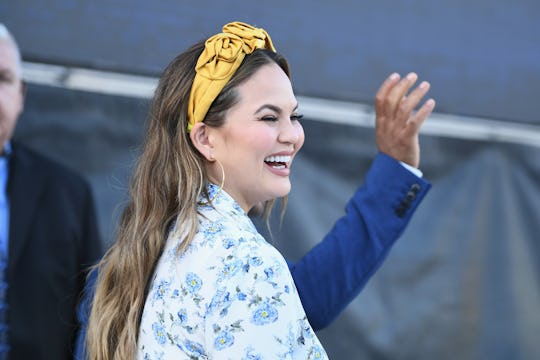 Emma McIntyre/Getty Images Entertainment/Getty Images
You Need To See Chrissy Teigen And Her Newborn Son At The 'Families Belong Together' Protest
Everything Chrissy Teigen does is capable of going viral, even if it's just sharing a photo of her newborn son. But when the model and mom of two took to the stage at a protest in Los Angeles over the weekend, people had mad respect for what she had to say. And also, the fact that she brought her baby. Yes, Chrissy Teigen brought her newborn to her 'Families Belong Together' speech, and it was amazing. Obviously, the speech was great in and of itself, but her sweet baby boy was just the cherry on top. Basically, Teigen was brilliant, and what she had to say about immigration policy is so important. Oh, and baby Miles' appearance was both poignant and adorable.
As she announced on Friday, Teigen appeared at the Los Angeles 'Families Belong Together' protest Saturday afternoon to talk and introduce her husband, John Legend, who performed a new song, "Preach." But she didn't just get on stage to introduce Legend and talk about him. Oh, no. Teigen also took a moment to express her own outrage at the Trump administration's immigration policy and how it had separated way too many families. "Can you imagine this city without immigrants?" she asked the crowd. "Immigrants don't come here to take away from America, they come here to add to America."
But Teigen wasn't just there to make a good point. No, in true Chrissy Teigen fashion, the model and cookbook author also brought her son, Miles, who was only born in May, on stage with her. And fans loved her dedication.
People Applauded Her Ability To Multitask
When you're a mom, you have to get really good at juggling tasks, and that's clearly something Teigen has mastered. While delivering her passionate speech, she held baby Miles in her arms and showered him with love.
Additionally, many Twitter users felt that Teigen and Legend were setting a great example for both Miles and their daughter, Luna. By getting up and showing up at protests, the parents are teaching their children that every voice matters, and that taking a stand is always a good idea.
Obviously, There Were Some Criticisms
As with anything a woman ever does, Teigen had some critics. Unfortunately, there were a few people who felt the need to let Teigen know that they didn't approve of her decision to take Miles to the protest.
Listen, it's perfectly OK if you have some concerns for celebrities and their children. That's fine. But taking to the internet to rudely express those concerns, especially when you have nothing to do with the situation, is kind of ridiculous.
But Really, The Fans Outnumbered The Trolls
At the end of the day, Teigen's speech was fantastic. Speaking more on the subject of immigrants, she said, "They don't come to take from us, they come to make America special. they make America great; we are here and we're not going anywhere." She even gave an incredible impersonation of Trump, which got her a highlight on CNN, something she was very proud of.
So clearly, trolls aside, Teigen's speech on Saturday was successful, and having Miles by her side just helped to ensure that the point of the preset was crystal clear. Teigen is lucky to have her children with her, and be able to take them with her wherever she goes, if she so pleases. Not all moms and families are that lucky, and that's exactly the message she wants to get across.
Keep on keeping on, Teigen. And let your voice be heard, baby Miles.