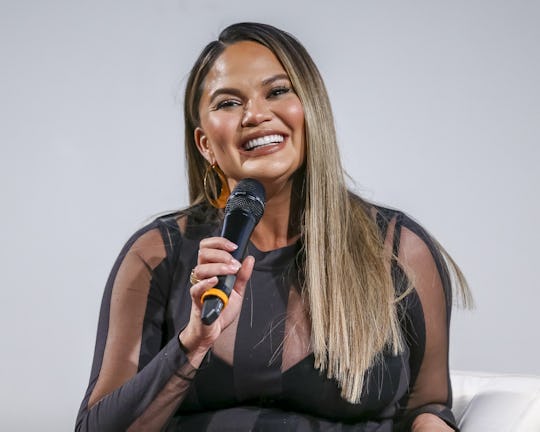 Rich Polk/Getty Images Entertainment/Getty Images
Prepare To "Aww," Because Chrissy Teigen Just Shared The *Cutest* Selfie With Baby Miles
There are so many milestones in a baby's life. Like the first time they sit up, crawl, and of course, their first selfie. Hey, it's a thing. After sharing pics of baby Miles and 2-year-old Luna last week, on Sunday morning Chrissy Teigen shared her first selfie with Miles, so now he's officially a social media guru. Just like his mom.
Miles was born last month, and his first official photo came shortly after. Teigen captioned the picture, "Hello, world! This is Miles Theodore Stephens — We are drowning in his little peeps and nuzzles. Our household feels overwhelmed with love." And it's easy to see why. On Sunday, Teigen added a video to an Instagram Story in which she's snuggling with little Miles and he is definitely too cute for words.
Hopefully she and Miles are properly resting, because it looks like they've had a long weekend. On Friday night, Teigen shared pictures of her and John Legend having a Saturday Night Fever themed date night. In one pic, Teigen wrote that she would be "sore for weeks" just for posing for a picture, which is something all new moms can likely relate to. The couple also had a date night earlier in the week, according to John Legend's Instagram account, which is so good to see. Balancing that snuggle time with your kids and making sure you're still having fun with your partner is everything.
Hilariously, it's taking Luna some time to adjust to her baby brother, adorable-ness be damned. Legend told People on the red carpet of an Emmy event last month that she was still getting used to the little guy. The singer told People:
[Luna's] used to having us to herself. I think she's just starting to realize though that he might be competition. So in some ways it's good because she's stepping her game up. She's being more loving, she's singing louder, and dancing harder. She's making sure we don't stop paying attention to her.
Making sure that Luna doesn't feel left out seems to be really important to her dad. Throughout the pregnancy, he worried about how she would adjust almost every time someone asked him. And understandably so — you don't want to foster any sibling rivalry or make a kid feel like you don't love them anymore, right? According to Hollywood Life, Legend said at the TFF Talks Storytellers event in April:
Chrissy is due a month from now. I don't know if Luna is ready ... I don't think she has any idea about being a big sister, actually. My friends keep trying to give me advice, but I think Luna is definitely going to be an issue!
He added, according to Hollywood Life, "She's used to being the center of everything. We'll see how she shares the spotlight."
It is true that Luna had a good run of being the only child for two years, but it looks like she might be adjusting just fine. In another picture shared by Teigen, Luna is seen giving Miles his pacifier and it looks like she's just as in love with him as her parents are. Or, you know, she's plotting how to drop him off somewhere, never to return. As one does with little brothers.
But Chrissy Teigen and John Legend seem to be doing everything they can. Last week, they were spotted out with their toddler for dinner in Beverley Hills. Miles stayed home, but, as Harper's Bazaar reported, Luna was dolled up in a polka dot dress, fresh kicks, a Gucci handbag, and a stuffed leopard, looking like a total boss. She has the look of a gal who knows that her mom and dad have enough love to go around for both herself and her brother. And until Miles gets on solid foods, she can have all the dinner dates with her parents she wants.