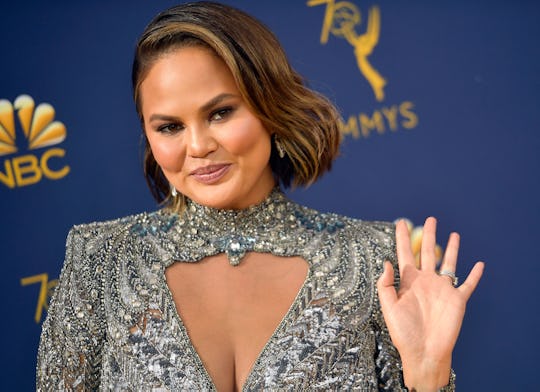 Matt Winkelmeyer/Getty Images Entertainment/Getty Images
Chrissy Teigen Admitted Something Important About Her Postpartum Depression
One of my favorite things about 2018 is the fact that so many women have started to open up about their experiences with postpartum depression. After decades of new mothers suffering in silence, worried there might be something fundamentally wrong with them as human beings, we've finally come out of the dark ages and decided to help each other. My other favorite thing about 2018? Chrissy Teigen. And not just because of her delicious recipes. I love her honesty. And I love the fact that recently, Teigen admitted her postpartum depression took "months" to discover. I really believe it will help other moms who might be putting pressure on themselves to bounce back quickly, when bouncing back might not be in the cards just yet.
The Cravings: Hungry For More cookbook author is mom to two adorable kids, 2-year-old daughter Luna and 6-month-old son Miles, with husband John Legend. She has made something of a career out simply by being herself, and while the extremely likable persona she puts out to the public on social media tends to be positive and happy, as Cosmopolitan reported, she wants people to know that's not always a fair representation. Especially after giving birth to daughter Luna in 2016.
Teigen opened up about her experience with postpartum depression in a recent interview with Glamour, where she was named Woman of the Year. In the interview she admitted that her sadness sort of snuck up on her out of the blue a full three months after giving birth:
I think the most surprising thing for me was that it happened three months after. I thought postpartum was, you have the baby and you're sad. It was like, no. It sneaks up on a lot of people. That's why I thought it was important for me to talk about.
As the National Institute of Mental Health notes, it can be difficult for a new mother to realize she is suffering from postpartum depression for a few reasons. First off, so much of your life has changed that it can be easy to ignore feeling different as you're trying to care for your baby. But there's also the reality that postpartum depression has such a broad spectrum of symptoms that it can be tough to diagnose.
In Teigen's case, one of the first things she noticed changing was her lack of interest in food after Luna's birth. Which is fairly significant considering she has enjoyed a well-documented love affair with food. As she told People in September:
I just started looking at food and was like 'I'm not in the mood.' It's like going to the grocery store when you're full. You just don't want the same things. Food wasn't that thrilling for me. That was one of the first times I knew something was wrong.
Teigen sought out treatment once she realized she had postpartum depression, which means she was one of the lucky ones. And she's passing along her story now to help other new moms who might feel as though something isn't quite right, even months after giving birth. There's no shame in seeking out help for yourself. No shame in self-care.
Just ask Chrissy Teigen.