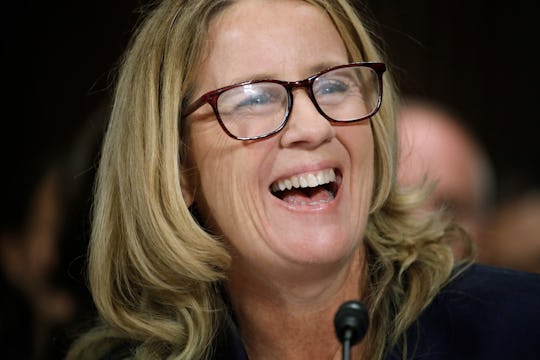 Pool/Getty Images News/Getty Images
Christine Blasey Ford Powerful Words Become Art On This Week's 'TIME' Cover
Last week, Dr. Christine Blasey Ford publicly testified about Supreme Court nominee Brett Kavanaugh, who she alleges sexually assaulted her in 1982. Ford's testimony was incredibly powerful, and her supporters are making sure her story is not forgotten anytime soon. For example, TIME's newest magazine cover honors Christine Blasey Ford's compelling testimony, and the illustration puts an emphasis on the importance of believing Ford.
On Thursday, TIME debuted its Oct. 15, 2018 cover, which was hand-drawn by artist John Mavroudis, according to TIME. On a black background (and surrounded by TIME's signature red border), Mavroudis illustrated a portrait of Ford holding up her right hand in court. But instead of just using brushstrokes to bring her face and hand to life, Mavroudis used words that Ford said in court. Phrases on her face include, "The hallway haunted me," "I will never forget," "I am here today not because I want to be," "Consequences of speaking out," "Traumatic experience," and "I was too afraid and ashamed."
Mavroudis opened up about his artistic process and the meaning of each phrase's placement. "This particular process is like putting a jigsaw puzzle together, but with an infinite number of possibilities," he told TIME. "I started with an image of Ford and then drew the words in where they might be appropriate."
The artist also explained exactly how he chose the placement of each quote, telling TIME:
The memory quotes would be attached to her forehead area, and the quotes about wanting to help I placed on her hand. The hand could be seen as welcoming, but also deflecting.
The photo of Ford that Mavroudis based his illustration on also makes a statement in itself. Of all the pictures taken from the hearings, Mavroudis chose the one where Ford is reciting the sworn testimony. His cover puts the hand she swore to tell the truth with at the forefront of her photo. The prominently placed hand highlights the likely fact that Ford's testimony is 100 percent true, as she claimed.
On Thursday, Sept. 27, Ford spoke before the Senate Judiciary Committee about her experience with Kavanaugh 36 years ago, when she was 15 years old. According to her testimony, Ford was at a high school party over the summer, when Kavanaugh and another teenager, Mark Judge, shoved her into a bedroom. She explained that Kavanaugh forced her onto the bed, used his hand to shut her mouth, and tried to remove her clothes, CNN reported.
When asked what her clearest memory of that night was, Ford's answer was paralyzing. "Laughter — the uproarious laughter between the two and they're having fun at my expense," Ford responded at the hearing, The New York Times reported. "I was, you know, underneath one of them while the two laughed."
Ford is a hero for coming forward with her story, and many people are letting her know how much her bravery means to them. The week before Ford testified, California resident Kristen Podulka started a card-writing campaign to thank Ford, San Jose Inside reported. The National Organization for Women's Facebook page shared Ford's business address at Palo Alto University, for those who want to join in and thank Ford for her courage: Dr. Christina Blasey Ford, c/o Palo Alto University, 1791 Arastradero Road, Palo Alto, CA, 94304.
Hopefully the messages of support are providing Ford with some comfort during this stressful time.