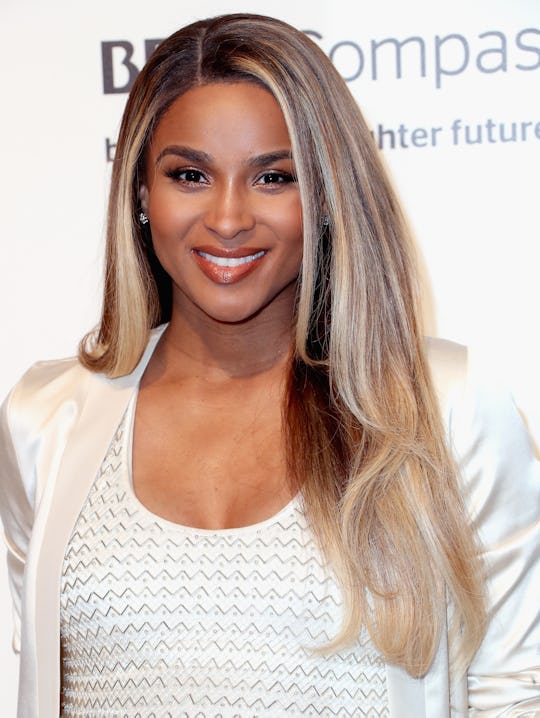 Frederick M. Brown/Getty Images Entertainment/Getty Images
Behold, Ciara's Incredible Bump Photoshoot
Considering that Ciara is expecting her second baby and working on her seventh studio album, 2017 is shaping up to be a major year for the R&B star. She's not revealing when the new baby will arrive just yet, but Ciara's Harper's Bazaar bump photoshoot offers a not-altogether-rare glimpse into her life with her growing family and shows the love that will surround her soon-to-be son or daughter. After all, the 31-year-old "Goodies" singer has already cornered the entertainment game and demonstrated her devotion as a mother — and she's not stopping there.
Ciara is stunning in the shots, which feature, most notably, 2-year-old Future Zahir Wilburn, whom she shares with her ex, the rapper Future. Her husband, Russell Wilson, is also included in one of the portraits, cradling his wife's belly as she cuddles little Future. In each of the photos — perhaps especially the topless ones — the singer exudes contentment and confidence. And she has every reason to.
Ciara married Wilson, the quarterback for the Seattle Seahawks, in July, and the couple announced they were expecting back in October with an adorable Instagram post. And if anyone is excited to meet the baby, it's Future.
The toddler regularly tries to talk with his little brother or sister, Ciara told Harper's Bazaar's Fiona Duncan in the interview, published Tuesday, which accompanies the photoshoot:
He'll randomly pull my shirt up and be like, "I want to see the baby," "Hello, baby. How you doing, baby? I love you, baby. Okay, talk to you later, baby. Bye, bye." Then he'll kiss me on my belly and put my shirt back down.
Ciara posts photos of her son to her Instagram accounts frequently, allowing her fans to experience his cuteness for themselves. She also likes to show off her immense talent as an entertainer, like when she filmed a highly energetic lip sync rendition of Whitney Houston's "I'm Every Woman" in her home in February, as she danced from room to room, both Wilson and Future making cameos.
Future, she said in the Harper's Bazaar interview, has taught her patience, and she has also learned over the course of her 13-year career in the music industry that "being vulnerable is a form of strength," as Duncan writes. "Once you're able to really be truly truthful with yourself, it's life changing," Ciara said. "You have way more compassion than you imagine, you're sensitive to the right things."
For Ciara, the "right things" are clearly loving on her family and nurturing her impressive career — two things her fans will surely want to thank her for.