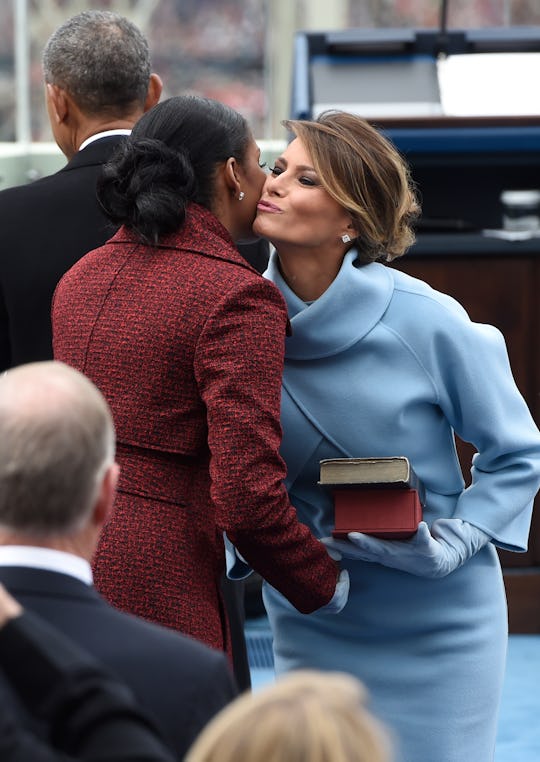 Pool/Getty Images News/Getty Images
Comparing Melania Trump's International Women's Day Message With Michelle Obama's Says A Lot
Even though her husband and his administration don't seem to be the biggest fans of feminism, Melania Trump decided to pretend that wasn't true for a hot sec on International Women's Day this year. The first lady took to Twitter Thursday morning to share what many called an expectedly generic statement about the holiday. While she was one of only several members of Trump's inner circle to acknowledge the important holiday, she was definitely not the only U.S. first lady to recognize it. Melania's International Women's Day statement compared to Michelle Obama's reveals a lot about the first ladies' stances on feminism.
"Happy #IWD2018. Today we recognize, celebrate & honor women around the globe," Melania tweeted on Thursday. "On March 21, I will be at the @StateDept to present the #WomenOfCourage award to some extraordinary women." The first half of her tweet is pretty generic, and not too different from the definition of the holiday as written on its website: "a global day celebrating the social, economic, cultural and political achievements of women." Thursday morning, the White House announced that Melania would be presenting the aforementioned award in honor of International Women's Day later this month. "Mrs. Trump will give remarks and present the International Women of Courage Award to an extraordinary group of women who have shown tremendous courage and leadership in advocating for women's rights around the world," reads the White House's press release.
She posted the same statement to Instagram with a graphic that makes me even more concerned for the Trump administration's budget than I was after Pence's football stunt. Seriously, is there no graphic designer on staff?
Even though there's nothing pointedly offensive about her tweet, the fact that she does not directly mention any women she was celebrating speaks volumes. It's really no surprise that Melania is only acknowledging International Women's Day in such a small way, considering the fact that her husband has publicly made so many sexist comments about women.
In contrast, Michelle Obama used her platform to elevate the voices of four young women from Nepal, Ghana, Guatemala, and Chicago in honor of International Women's Day. A longtime advocate of education for girls, Michelle Obama (and the Obama Foundation) partnered with Refinery29 to bring awareness to this cause. Michelle and the four young women each interviewed each other for the story, serving as an inspiring reminder that there are adolescents all over the world who have the power to make a positive impact.
"To celebrate International Women's Day, I wanted to reach out and connect with girls around the world — including in Chicago —to hear their stories and to share some of mine," Mrs. Obama told Refinery29, adding:
Working to empower girls across the globe is my passion, and through the Obama Foundation, it will be something I work on for the rest of my life. I hope readers everywhere will be inspired to join me in this effort.
Michelle's statement that she wants to work on empowering girls worldwide for the rest of her life is a hefty one, and it says so much more than Melania's.
Michelle and Melania were not the only first ladies to speak about International Women's Day. Hillary Clinton wrote a Twitter thread on Thursday to honor a slew of women and girls who she said inspire her every day. "These women resist inequality, insist on a better world, persist against all odds, and enlist others in our shared fights," the former presidential candidate wrote. Her list included Tarana Burke (the founder of #MeToo), Emma Gonzalez (a survivor of the Parkland shooting), the U.S. women's hockey and soccer teams (who fought for pay equality), and Astrid Silva (an advocate for dreamers).
Unfortunately, fighting for gender equality does not seem to be at the top of the Trump administration's list of priorities. But with so many young women determined to make a difference, who cares what Trump thinks?
Check out Romper's new video series, Bearing The Motherload, where disagreeing parents from different sides of an issue sit down with a mediator and talk about how to support (and not judge) each other's parenting perspectives. New episodes air Mondays on Facebook.