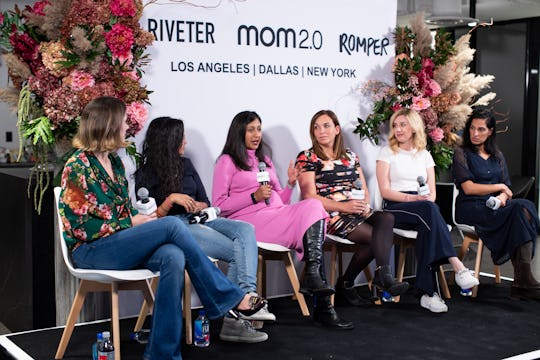 Rachel Sklar, Deepti Sharma, Nithya Das, Amy Nelson, Jane Mosbacher Morris, and Sehreen Noor Ali. Photo credit: Shanelle Infante
How To "Collab" In A Way That Pays Off
Romper is conducting a year-long conversation with members of the Mom 2.0 community about how to "make it." Get inspired here.
As Madonna once reported, we are living in a Material World, but now, it is evident, we are also living in a "collab" world, which is a Material World with an x in the middle. Collabs are everywhere, from Williams Sonoma x Martha Stewart to Birkenstock x Valentino to Ed Sheeran x pretty much everyone. And if you're an early-stage entrepreneur, you have perhaps wondered, "Should I have a collab too? Who should I collab with? Is it OK to say the word 'collab' aloud, unironically?"
To answer these questions, and as part of our ongoing relationship, Romper teamed up with Mom 2.0 as well as The Riveter, the rock star woman-led coworking startup that has positioned itself as a union for working women, on November 13 for an evening all about collaboration.
It was the final of three pop-up events held around the country this fall, each focused on a different theme surrounding women and entrepreneurship, especially women raising kids at the same time they're launching companies. Pinkberry supported the whole shebang, fueling the hustle with frozen dessert.
Women aren't working together enough, aren't collaborating enough. Until I had credibility, no one was reaching out to me. —Deepti Sharma
The evening, conceived and executed by Mom 2.0's three cofounders, Laura Mayes, and John and Carrie Pacini, featured two panels; one on the future of collaboration across industries, and one on collaboration in the fashion space — probably the most visible manifestation of the business collaborations in which women, especially, have always excelled.
We welcomed entrepreneurs across industries, from education to food to fashion, to talk about collaboration — what makes a successful one, why women are so good at them, and what the success of the collab tells us about the future of business (find out exactly what below).
I said, 'I think you should invest $100,000 in my company.' Can't get it if you don't ask. —Amy Nelson
Our panelists included Amy Nelson, founder and CEO of The Riveter; Deepti Sharma, founder and CEO of FoodtoEat; Elana Nathan, former CEO and president of Peter Som; Emma Rosenblum, editor-in-chief of Bustle, Elite Daily, Romper, Nylon, and the Zoe Report; Jane Mosbacher Morris, founder and CEO of TO THE MARKET; Nithya Das, general counsel at Olo and former chief legal and people officer at AppNexus; Sehreen Noor Ali, co-founder of Visible Health; Ariane Goldman, founder and CEO of Hatch; and Rachel Sklar, co-founder of The Li.st.
Photo credits: Shanelle Infante
Whether your Big Idea is still in your head or you have a solid small business that's yearning for more exposure, here's the advice they had to share on collaborations of all kinds:
1. Consider A Pre-Launch Collab
When Ariane Goldman, founder of the bridesmaid dress line Two Birds, decided to launch Hatch Collection, a line of cool-girl maternity wear that other brands now regularly seek out for collabs, she bootstrapped the whole thing, which means her marketing budget was minimal. Her solution? She launched on Gilt Group two weeks before the Hatch site went live and donated all of the proceeds to the maternal health nonprofit Every Mother Counts.
The point was to get exposure, and do some good in the process. "Gilt got us in front of eyeballs that I could never reach on my own," Goldman says.
2. Look To Your Own Networks
"Learning into our own networks is something at The Riveter we've done from the beginning," Amy Nelson said, adding that the early success of her business is the result of leaning on everyone she works with. Investors, if you have them, are also collaborators, and you should treat them as such, including when you're asking for money. Nelson recalled a conversation with one prospective investor: "I said, 'I think you should invest $100,000 in my company.' Can't get it if you don't ask."
3. Support Others, Especially Women, Before They're Established
Sharma called for more women to collaborate in some way with other women who are just starting out. "Women aren't working together enough, aren't collaborating enough. Until I had credibility, no one was reaching out to me," she said. She's since made a point to do that. "If there's a speaking opportunity that comes my way and it's not exactly right... I'm going to send it to a friend of mine."
Sharma advised the audience to always be asking themselves, "How do I give an opportunity?"
This is how you build an organic support system that all entrepreneurs and, potentially, future collaborators, need to survive. "If you do have a reputation as collaborative and a straight shooter… people trust you," Das said.
4. Consider A Collab With A Brand In A Different Sector
Collabs are everywhere now, but when Elana Nathan, mom of two boys, started doing them in her former role as president and CEO of the fashion brand Peter Som, they were rare. Som's first was with a real estate program.
"It made sense for them from a marketing point of view," Nathan recalls. "It was in Bryant Park, where they used to have runway shows. Today that kind of collaboration is commonplace, but then it was forward thinking, particularly for fashion designers."
5. Look For A Brand Good At Something Yours Isn't (And Vice Versa)
"I usually collaborate in areas that we're technically not that proficient in," Goldman said of Hatch. "We collaborated with Current Elliot on jeans until we had the bandwidth to take that on. We're going into denim on our own next year.
"The third search term on J. Crew was maternity before the economy went to crap and they cut maternity," Goldman said of how the J. Crew x Hatch collaboration came about. Meanwhile, "A big search term for us was workwear," which Goldman wanted to stay away from after eight years of corporate life. "Both things we needed to do for our communities but weren't great at," so it worked out.
6. Be Clear On Who Is Doing What
In fashion and apparel collaborations, it's crucial to identify ahead of time what each team will be responsible for, especially since different deliverables are not equally time consuming. "Who's taking production?" is a question that's top of mind for Goldman as she approaches each of her many collars. "The negotiation is not an easy one," she added.
If you take it on, what are they going to provide on the other side of the equation?
Goldman offered Hatch's collaboration with an athletic wear brand as an example. She's thrilled that they worked together, but only realized mid-production how much Hatch had taken on. "It's really a bandwidth thing for your team," Goldman said, regarding production specifically. "If you take it on, what are they going to provide on the other side of the equation?"
If the other side is taking production, establish points when you'll touch base to approve next steps, and talk up top about whether you want to document the partnership for your brand story.
7. Don't Sacrifice Your Team Or Your Values
When you really want a collab to happen, it's tempting to promise things that will be exhausting to deliver (see above) or just aren't you. "I just need to leave the meeting with all of myself intact," Sharma said of needing to push back against attitudes that go against her values.
8. Ask Yourself Whether It Needs To Exist
Given that collabs are now everywhere, even between brands that do not seem like a natural fit (Le Creuset x Star Wars, anyone?), it's smart to evaluate how your collab would stand out, and if there's an actual market for it.
"For me now it's about what needs to be done," said Nathan. Goldman agreed, "There's so much noise with all of these partnerships now." She's looking for future collars that really fill a need or put Hatch in front of a consumer it hasn't yet served. For instance, it is soon collaborating on a pregnancy pillow. Rosenblum, editor-in-chief of Bustle Digital Group's lifestyle brands, approved. "I loved my pregnancy pillow until in the middle of the night it turned on me, and I was being strangled and threw it out of the bed."
See, here there is a need.
9. If You're A Business Person Partnering With A Creative…
Do your due diligence. "You have to make sure that you get to know that person extremely well — it's a little like a marriage but a lot more like being in a rock band," said Nathan. "There's a lot of drama. They need to know you have their back and you need to know that they have yours."
I really hit rock bottom before I asked for help.
10. All Of This Applies At Home, Too
Every one of our panelists stated in the green room or on stage that there is no place where collaboration is more important than in your domestic life, especially when you're trying to build something at work at the same time. You can't do it all. You just can't. "I really hit rock bottom before I asked for help," said Das, who is pregnant with her second kid.
Nelson's mother, who was the breadwinner when she was growing up, is now an essential fourth person in a childrearing village that includes her husband, who is now the primary parent at home; her nanny, Megan, who comes eight hours each day; and her mother. "She truly is another parent to my children," Nelson said.
"A partnership with your spouse is a lot like your team at work," said Das, noting that your spouse's support is as essential to your career success.
Li.st founder Rachel Sklar, who parents solo, learned 12 hours before Wednesday event that her sitter wasn't coming (in the lingua franca: "my village called out"), so her support system manifested in the room, with friends in the audience looking after her 4-year-old daughter while she moderated.
See?! Collaboration in action.
Want More Inspo?
Bustle Digital Group was a media partner of The Riveter's first Summit, held on November 6 and 7 in New York City, and you can read about some of the wisdom we gathered there — from Stacey Abram's thoughts on ambition to Lindy West's antidote to shame and despair.