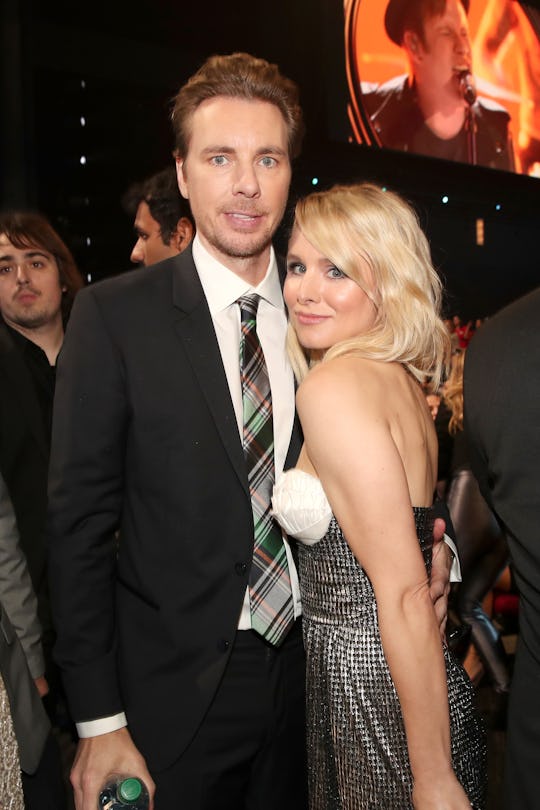 Christopher Polk/Getty Images Entertainment/Getty Images
Dax Shepard Played House With His Daughters & Totally Rocked This Glam Accessory — PHOTO
When playing a game of house, it's important to commit to your role. House can go on for hours, so whether you're playing mom, dad, grandma, the baby, or the dog, you'll want to make strong character choices and stick to them. Considering Dax Shepard is an actor, it really shouldn't come as a surprise that he committed super hard to the part of "Little Sister" in a recent game of house with his children, whom he shares with his wife Kristen Bell. In a photo shared by the proud dad, you can see Dax Shepard playing house with his two daughters and it's clear that he's a pretty good sport when it comes to playtime. Not to mention, he looks pretty good in an accessory I never thought I'd see him wear.
"In this scenario I'm 'Little Sister,' and my 3 year old daughter was 'Big Brother.' My 5 year old was 'Mommy,' and damn was she strict," Shepard captioned his most recent Instagram post, followed by a smiley face. In the photo, Shepard is gingerly tucked into the bottom bunk of a bunk bed.
From underneath the covers, he is seen cuddling with stuffed animals, staring at the camera with a deadpan expression, and, best of all, rocking a tiara. It's safe to say that Shepard's early bedtime was his daughter's retribution for all those times Shepard and Bell made her go to bed early.
A bunch of enthusiastic fans commented on the Instagram photo. "Tis [sic] how life is with kids. But kudos to you for playing along," commented one user.
"You are a beautiful princess and you deserve to have your hair brushed and braided just as much as anyone else," joked another.
"And who did miss Kristen get to be?" asked someone else. Shepard didn't mention whether or not Kristen Bell was involved in the game, but it wouldn't be surprising if she was responsible for the photo.
Bell and Shepard are parents to two daughters: Lincoln Bell Shepard, 5, and Delta Bell Shepard, 3. It's clear that mom and dad's background in acting comes into play when spending time with their children — and they've both historically been really good sports about using their professional dress-up skills while parenting.
For example, this past Halloween, Bell gave into her daughter's wishes when it came to them wearing matching costumes — despite a palpable conflict of interest. "When your daughter demands you BOTH be ELSA for Halloween...you GRIN AND FORKING BEAR IT," Bell captioned a photo of herself dressed as Elsa from Frozen on Halloween. As you probably know, Bell voiced Anna in Frozen — so it's safe to say she was not happy about dressing up as her character's sister/enemy-turned-BFF.
Not to mention, Shepard is just a straight-up good sport in general. Bell once told the story of Shepard literally nursing from her when she had uncomfortable mastitis after stopping breastfeeding. The actress told the story of her supportive hubby on an episode of her web series Momsplaining with Kristen Bell, recalling:
So I said to my husband, "I really need you to suck this out. We could talk about it, we could be weird about it, or you could just go ahead and nurse" .... He pulled it out. He had a cup next to him. He was pulling out and spitting into this cup, and I've never been more in love.
It's clear that Bell and Shepard are comfortable going out of their way to be good parents — and to be good partners to each other, as well. The pair has opened up about attending couples therapy on multiple occasions. "We went to therapy early on to learn what our pattern of arguing was and where we needed to stop that," Shepard told Good Morning America last year. It seems like any arguments in the Bell-Shepard family's games of house should be solved pretty easily.
Check out Romper's new video series, Bearing The Motherload, where disagreeing parents from different sides of an issue sit down with a mediator and talk about how to support (and not judge) each other's parenting perspectives. New episodes air Mondays on Facebook.