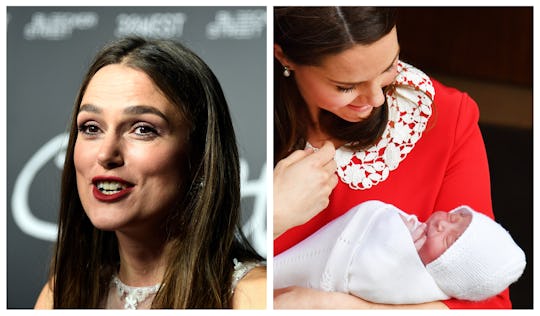 Photos by Kevork Djansezian/Getty Images; John Stillwell - WPA Pool/Getty Images
Let's Not Make Shaming Moms Who Wear Makeup After Birth A Thing
It is one British icon pitted against another, as Keira Knightley critiques Kate Middleton's three postpartum photo calls on the steps of the Lindo Wing — an appearance that Knightley describes as an attempt to hide the "reality" of motherhood in a new essay. That the Duchess of Cambridge looked too glamorous immediately after delivering her children is quite an admission coming from the face of a famous fragrance. It's a take that seemingly implicates any women who might decide to pack the mascara, hair dryer, and CC cream in the hospital go bag.
But what Knightley (and other critics in the past) seems to be missing is that there's no one reality of motherhood — it looks different for us all. Take it from someone who slapped some makeup on in the hours following her own son's birth.
Knightley's essay, which appears in Scarlett Curtis's new book, Feminists Don't Wear Pink and Other Lies, focuses on the fact that Middleton was "out of hospital seven hours [after birth] with her face made up and high heels on," as excerpted on E! Online. The actress goes on to describe the Duchess as "the face the world wants to see," adding:
"Hide. Hide our pain, our bodies splitting, our breasts leaking, our hormones raging. Look beautiful, look stylish, don't show your battleground, Kate."
And yes, Middleton did look beautiful in the photos following the birth of all three of her children. Following the birth of her firstborn, Prince George, she appeared made up and glowing, with hair styled, and notably chose a dress that revealed her very real, very normal postpartum belly.
But this year, following the birth of her youngest son, Middleton's postpartum appearance was met with a backlash not unlike Knightley's.
"Giving birth doesn't exactly feel like an outpatient activity to many," writer and editor Amy Joyce said in a Washington Post article titled "Yes, Duchess Kate Looked Flawless After Giving Birth. No, This Isn't Normal." Joyce went on to say: "But watching her stand outside the hospital, holding their new bundle, almost makes a mom forget just how hard that actually is to do after having a baby."
The pressure to be 'real' can sometimes feel as demanding as the pressure to be 'perfect.'
Knightley's essay echoes Joyce's sentiment, describing her own experience of childbirth in detail. The actress recalls wearing a "hospital gown with paper pants on" while she greeted family visitors, writing:
"My breast is out in front of them all and I don't care….. My shoes are crusted and sticky with the amniotic fluid of yesterday. They smell. I remember the sh*t, the vomit, the blood, the stitches. I remember my battleground."
Knightley seems to overlook the fact that Middleton obviously went through all of the same experiences — just because we didn't see it doesn't mean that it didn't happen. And while the normalization of postpartum bodies bears serious merit, there is no rule that dictates a woman — celebrity or otherwise — must lift the curtain and show her most intimate experiences to the world, or disappear from sight in a quiet gesture toward the horrors taking place.
In a world where so many people put every aspect of motherhood on social media, the pressure to be "real" can sometimes feel as demanding as the pressure to be "perfect." It seems as though every day, one person is going viral for bearing her stretch marks, while another is getting thousands of double-taps for being "honest" about how motherhood is hard AF. And, yes, there's value in acknowledging the difficulties of being a mom, or the ways that pregnancy and birth change one's body — especially when we've been bombarded for decades by images of celebrities who have "bounced back." It's undeniably reassuring when a famous woman comes forward to say "actually my body is completely different," and that honesty can feel like a breath of fresh air. But at what point is it unfair to expect that of all women as a baseline? In some way, isn't it just as unfair as expecting them to look perfect postpartum?
We could give Knightley the benefit of the doubt — perhaps she intends Middleton to function as a kind of symbol of the cumulative pressures new mothers feel — but Middleton is truly a case of her own: royalty, the world's cameras pointed at her, enduring one photo op en route to the relative calm of her maternity leave.
Labor and delivery can feel like an out of body experience. It's unlike anything else in life, and can leave you feeling like a stranger to yourself.
Moreover, some women do put on makeup in the delivery room or shortly thereafter; Middleton is certainly not alone there. While some might balk at the idea, it's worth pointing out that the process of labor and delivery can feel like an out-of-body experience. It's unlike anything else in life, and can leave you feeling like a stranger to yourself — you honestly might not recognize your own reflection. For some women, the process of putting on makeup and doing their hair can help them feel more like themselves. It can help them feel more comfortable greeting visitors while, internally, they're dealing with one of the most life-changing experiences in the world.
Putting on makeup or real clothes after having a baby doesn't "erase" the act of childbirth. The fact that Kate Middleton had perfect hair after delivering her children doesn't negate the physical journey her body went through, nor does it make her any less of a "real" mom than Keira Knightley. Furthermore, Knightley's choice to share the details of her birth with readers is entirely within her right — but Middleton is under no obligation to do the same. We cannot get to a place where we expect all celebrities to expose their most private moments to the world just because a few are comfortable doing so — no matter how good it makes people feel to have a window into that intimacy. And don't forget, Kate Middleton has had her privacy invaded to that extent before.
Every pregnancy, every birth, and every postpartum journey is its own individual experience. What's "real" for one woman might look completely different for another, and no one gets to determine the basis for someone else's reality. Motherhood looks different for everyone, and I'm not about to take anyone down for putting on a brave face.