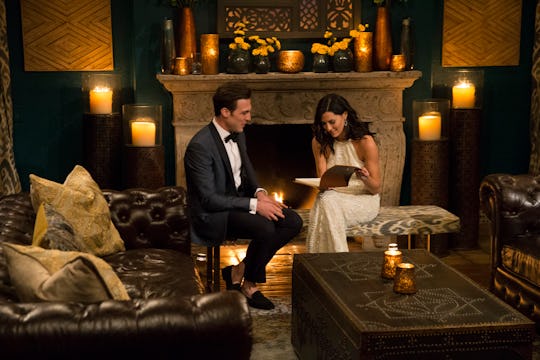 Paul Hebert/ABC
Has Becca Already Dated This One 'Bachelorette' Contestant?
The Bachelorette returns this on Monday, May 28, starring Becca Kufrin, who walked away from last season engaged, only to get dumped for her runner-up a few weeks later. It was a heartbreaking finale made all the more cringeworthy by Arie Luyendyk Jr.'s brilliant decision to dump her on camera, and ABC's equally brilliant decision to air the whole thing in one 40-minute, completely unedited chunk. Luckily, Becca has another chance at love with some pretty promising men this season, including one named Jake, whom she apparently already knows. So did Becca and Jake date before The Bachelorette? It's not exactly clear, but Chris Harrison did tease that the pair had history when he announced the cast via Facebook Live last week.
Fans may have noticed that it took longer than usual for ABC to release this season's contestant pool, and when they did, they decided to do away with the questionnaire-style bios revealing each person's dream date and list of tattoos (among other fun facts). Instead, Harrison announced each of Becca's 28 potential suitors on a Facebook live stream to help fans get their Bachelorette fantasy league brackets ready. (Contestant bios on the site are now relegated to a few sentences put together by ABC — no more "most embarrassing date" stories!) Among the guys this season is Jake, a 29-year-old marketing consultant from Minneapolis, MN, which just so happens to be Becca's hometown. As Harrison reveals in the Facebook Live announcement: "Jake and Becca have a past. Now, they have different versions of this past. You'll learn more about that, of course, as the show goes on." Interesting.
Of course, this wouldn't be the first time someone's ex showed up in their contestant pool. One of the contestants on Nick Viall's season, a doula named Liz, had previously hooked up with him at Jade and Tanner's wedding. This famously led to a really poorly handled reunion in which she stepped out of the limo to greet Nick on night one without acknowledging their history. He didn't know if he was supposed to bring up their sexual past while she tried to "test" him, seeing if he remembered her. The whole thing went south really quickly. So hopefully, if Jake and Becca have a one-night stand in their past (which I don't think immediately disqualifies anyone from true love!), they can both acknowledge it right away and start their rekindling off on an honest note.
Another possible storyline here could mimic Rachel Lindsay and Fred's from last season of The Bachelorette. They knew each other from summer camp, which Fred obviously hoped would spark some romance and nostalgia when he stepped out of the limo "all grown up." Unfortunately, Rachel, who was actually several years older and his counselor, just found it creepy. She couldn't move past the image of him as a "bad kid" whom she had to discipline, and had a hard time imagining him as a viable romantic partner. Since Jake and Becca both grew up in Minneapolis, it's possible they know each other from childhood or even high school.
Then again, Harrison specifically teased that they have "different versions" of their past, which implies something more complicated might have gone down. Could these two have dated? Possibly. It would make sense for these "different versions" to refer to two interpretations of why they fell out of touch. I'm betting there was probably some sort of misunderstanding that led to an abrupt fizzling out of an initial spark, which Jake later regretted. Maybe an unfortunate ghosting situation? In any case, it seems like Becca has all the power this time around, so we'll see how she reacts to this apparent blast from the past.